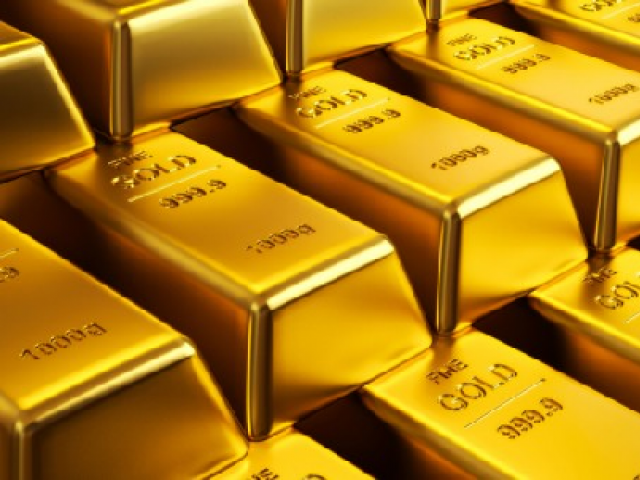 ---
KARACHI: Gold prices in Pakistan shot up to a record high at Rs63,700 per tola (11.66 grams) on Friday as people turned to the precious yellow metal, which is considered a safe haven for investment, ahead of likely return of inflationary pressures in the country.

Karachi Saraf and Jewellers Association Secretary Ghulam Hussain Deedar said the association revised gold prices upwards by Rs800 to Rs63,700 per tola on Friday despite a drop of $7 to $1,222 per ounce in the international market.

"This price is a historic high. The new price broke the previous record of Rs63,600 per tola reached on October 5, 2012," he added. "Cumulatively, the bullion price has soared by a total of Rs2,000, or 3.2%, in the last two days."

"Gold is a safe haven that protects from inflation," Rays Commodities Chief Operating Officer Adnan Agar told The Express Tribune.

People have restarted investing in gold as the International Monetary Fund (IMF) has projected a double-digit inflation at 14% by June 2019.

Unlike in world markets, gold loses shine in Pakistan

Average inflation in first quarter (Jul-Sept) of the current fiscal year was 5.86%, according to the Pakistan Bureau of Statistics.

"Price movement in the domestic commodity market comes despite the international gold prices continuing to consolidate just above $1,200 per ounce for the past around two months," the analyst said.

"The abrupt increase in gold prices in the domestic market is seen following a sudden pickup in demand," said Karachi Saraf and Jewellers Association President Haji Haroon Chand.

He said those dealers and jewellers who had gold stocks had stopped selling the commodity as they were anticipating a further price hike in coming days.

"Gold is going up as the rupee has remained stable against the dollar and the Pakistan Stock Exchange (PSX) has continued to trade at a low ebb," he said.

"All this is happening at a time when Pakistan's talks with the International Monetary Fund (IMF) for a bailout package have ended inconclusively and authorities say they will continue to engage with the global lender till January."
COMMENTS (2)
Comments are moderated and generally will be posted if they are on-topic and not abusive.
For more information, please see our Comments FAQ