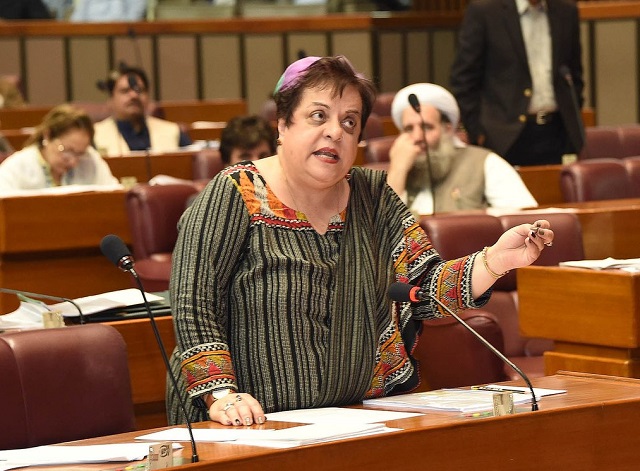 ---
Human Rights Minister Shireen Mazari on Monday said US President Donald Trump's recent tirade against Pakistan should be a lesson to those leaders who appeased the US after 9/11.
She said the policies of the United States do not coincide with Pakistan's strategic interests and the war on terror after the 9/11 led to death and destruction in Pakistan.
Trump fires off a new tirade at Pakistan
Trump's tirade against Pak & his claim that that Pak does not do "a damn thing" for the US shd be a lesson for those Pak ldrs who kept appeasing the US esp after 9/11! The renditions; the loss of Pak lives in US WoT; the free space for Raymond Davis & other operatives; etc etc

— Shireen Mazari (@ShireenMazari1) November 19, 2018
The illegal killings by drone attacks; the list is endless but once again history shows appeasement does not work. Also, whether China or Iran, US policies of containment & isolation do not coincide with Pak strategic interests. https://t.co/tFBe9BentG

— Shireen Mazari (@ShireenMazari1) November 19, 2018





Her tweets came in response to Trump's comments saying Pakistan does not do "a damn thing" for the US, defending his administration's decision to stop hundreds of millions of dollars in military aid to the country.




Referring to Pakistan's contributions to the US-led war on terror, Mazari added that the US president suffers from selective amnesia.


@realDonaldTrump suffers conveniently from perpetual historic amnesia! https://t.co/0uIY6f9jq7

— Shireen Mazari (@ShireenMazari1) November 19, 2018


Pakistan Muslim League-Nawaz's (PMLN) Khwaja Asif called Pakistan's relationship with the US one of 'betrayals and sanctions'. He tweeted saying Pakistan continues to pay in blood for fighting the US' wars and make sacrifices such as reinventing Islam to suit US interests.


We continue to pay in blood for what we did for USA from Beda Ber to fighting wars wich weren't ours.Reinveted our religion to suit US interests,destroyed our tolerant ethos,replaced it with bigotry & intolerance.A relationship of betrayals & sanctions https://t.co/3mDnJZ6GHu

— Khawaja M. Asif (@KhawajaMAsif) November 18, 2018


In his interview with Fox News, Trump claimed that Islamabad had helped al Qaeda leader Osama bin Laden hide near the garrison city.

Host Chris Wallace asked Trump: "Wouldn't it have been nice if we got Osama bin Laden a lot sooner than that, wouldn't it have been nice?"

Trump agrees to reset Pak-US ties: FM Qureshi

"You know, living — think of this — living in Pakistan, beautifully in Pakistan in what I guess they considered a nice mansion, I don't know, I've seen nicer. But living in Pakistan right next to the military academy, everybody in Pakistan knew he was there," Trump said, referring to bin Laden and his former compound in Abbottabad, Pakistan.

"You're not even going to give them credit for taking down bin Laden?" Wallace asked.

"They took him down but — look, look, there's news right there, he lived in Pakistan, we're supporting Pakistan, we're giving them $1.3 billion a year, which we don't give them any more, by the way, I ended it because they don't do anything for us, they don't do a damn thing for us," Trump responded.

The compound was destroyed shortly after the United States Naval Special Warfare Development Group forces, in a helicopter raid, killed bin Laden in 2011.

The United States has already canceled $300 million in aid to Pakistan for its lack of decisive action against militant groups.

The cancellation of aid is part of President Trump's New Year tweet in which he launched a scathing criticism against Pakistan for betraying the US.

US envoy hopes for peace deal with Taliban in 2019: media

"The United States has foolishly given Pakistan more than 33 billion dollars in aid over the last 15 years, and they have given us nothing but lies & deceit, thinking of our leaders as fools. They give safe haven to the terrorists we hunt in Afghanistan, with little help. No more!," Trump tweeted on January 1.




COMMENTS (3)
Comments are moderated and generally will be posted if they are on-topic and not abusive.
For more information, please see our Comments FAQ