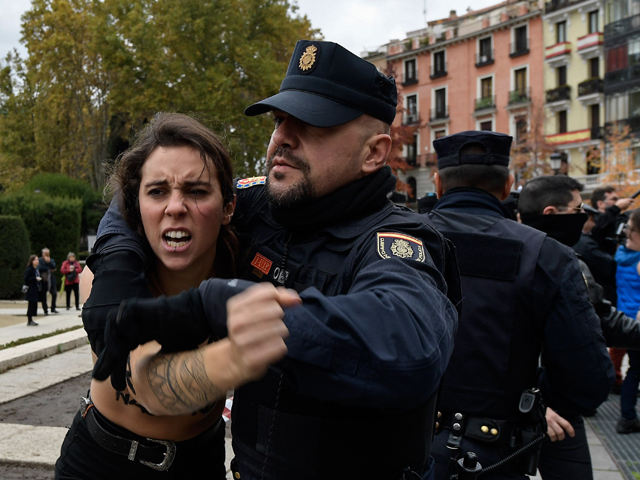 ---
MADRID: Bare-breasted protestors from the feminist activist group Femen on Sunday disrupted a rally of some 200 people in Madrid to mark the anniversary of the death of the country's former dictator Francisco Franco.

Police said nearly 200 Franco supporters had gathered in the Plaza de Oriente where he addressed the throngs during his 1939-75 military dictatorship.

Many bore flags, umbrellas and ties with the colours of the Franco-era Falangist party.

Three women interrupted the rally, their torsos daubed with the words "legal fascism" and "national shame", before being arrested by police.

Topless female protester runs at Trump's motorcade in Paris

Some in the crowd reacted angrily, trying to assault the women.

The pro-Franco event came as the socialist government of Pedro Sanchez draws up plans to exhume the dictator's body from the Valley of the Fallen basilica just outside Madrid.

The family of the late dictator, who died on November 20, 1975, wants his remains placed in the family crypt at Madrid's La Almudena Cathedral.

Sanchez wants to move the former dictator's remains to a more discreet spot where it will be harder for Franco followers to pay homage.

Topless Femen activist tries to snatch Jesus statue from Vatican crib

Pro-Franco demonstrator Dori Grande told AFP that people from both sides of Spain's civil war were buried at the Valley of the Fallen site, which was created ostensibly to reunify the country.

"This year more than ever, we have to defend our homeland, our history, because history is there. You cannot erase it," he added.

The remains of some 37,000 victims of the civil war, both republican and nationalists, are buried at the Valley of the Fallen basilica.

But many of the families of the dead were not notified and the site itself was partly built by republican prisoners, some of whom died in the process.
COMMENTS
Comments are moderated and generally will be posted if they are on-topic and not abusive.
For more information, please see our Comments FAQ