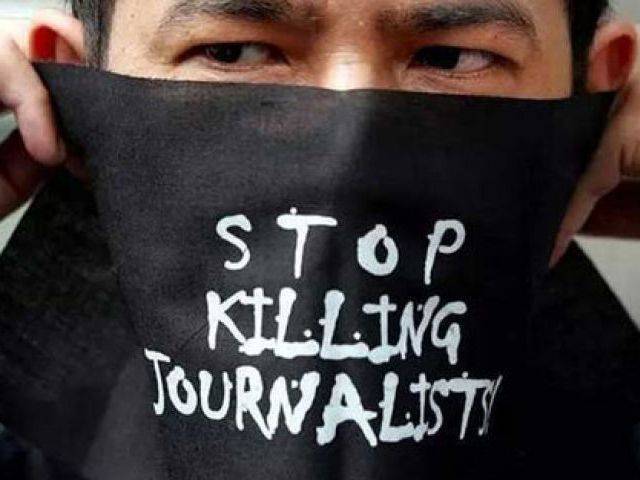 ---
JOURNALISTS: Former Senator Farhatullah Babar today called for a debate in all provincial and federal legislatures on the issue of impunity of crimes against journalists and devise a legal framework to ensure protection and safety of media people in the country.

He said while addressing a seminar on the launch of book on impunity of crimes against journalists in the National Press Club in Islamabad Friday evening. He said that resistance journalism was on the wane because resistance politics had also waned in the country and termed it as dangerous situation for the freedoms in the country.

Journalist's ordeal: Nasrullah Chaudhry remanded in police custody

He said that those dissenting with the state narrative faced three kinds of threats. Onc they faced mysterious disappearances and murder. Two, they faced a web of laws like the Pakistan Electronic Crimes Act 2016 that militated against freedom of expression and three, they were faced with being beaten blue in broad day light without anyone taking notice.

The crimes against journalists basically were committed by those who don't tolerate freedom of expression. Dissenting with the state narrative on critical issues or presenting alternate narratives carries unwritten penalties, he said.

He said that without free media there can be no free parliament and no free political activities. Not only journalists but others also faced threats of mysterious disappearances.

Islamabad lauds Riyadh proceedings against Saudi journalist's killers

The kidnappers of Tahir Dawar demonstrated a frightening network of surveillance and possessed capability to kidnap from federal capital, keep the victim for more a week and then transport the victim, dead or alive from Islamabad through Punjab, K-P, tribal areas and across the border without even being noticed by over 50 check points manned by police, Frontier Constabulary, Frontier Corps and even the military. This is a frightening, he said and called for a thorough probe.

Published in The Express Tribune, November 17th, 2018.
COMMENTS
Comments are moderated and generally will be posted if they are on-topic and not abusive.
For more information, please see our Comments FAQ