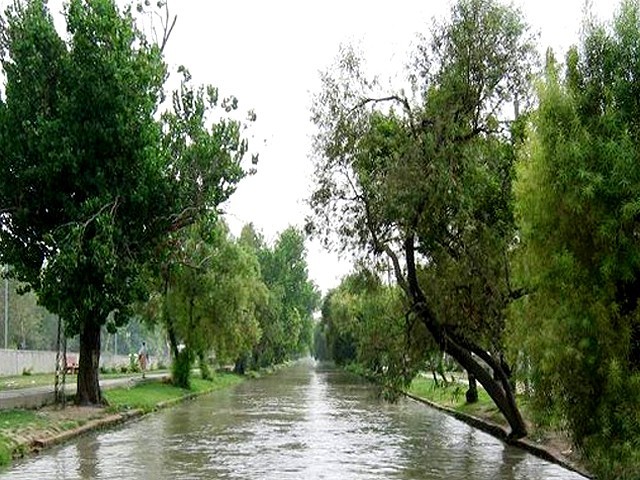 ---
ISLAMABAD: Forests in Khyber-Pakhtunkhwa have grown by 0.348 million hectares following the successful implementation of the provincial government's Billion Tree Tsunami project.

This was stated by the State Minister for Climate Change Zartaj Gul in the Senate on Friday.

In a written reply to a question posed by Pakistan Muslim League-Nawaz (PML-N) Senator Chaudhry Tanvir Khan, Gul stated that the government plans to replicate the successful model of the "Billion Tree Tsunami Project" all over the country. However, the target will be enhanced to planting 10 billion saplings.

"The prime minister has already inaugurated the project by planting a sapling on September 2, 2018," the Pakistan Tehreek-e-Insaf (PTI) minister wrote in her reply, adding that this will help increase forest area in the country.

Billion tree tsunami: Punjab forest dept tables afforestation plan

The Dera Ghazi Khan native added that details of the plan are being worked out in close consultation and coordination with the provinces.

She said the federal government has devised a mechanism for coordination with the provinces to curb deforestation and increase forestation in the country.

Moreover, the Federal Forestry Board has been revived after the National Forest Policy was approved by the Council of Common Interests (CCI).

In reply to another question posed by Jamaat-e-Islami (JI) Senator Mushtaq Ahmed, Gul said that so far 27 million plants have been planted in the four provinces and different territories under the Green Pakistan Programme — Revival of Forest Resources in Pakistan'.

The programme had been launched by deposed prime minister Nawaz Sharif in February 2017, at a cost of Rs3.7 billion over five years.

The state minister for climate change stated in her written reply that 100 million saplings are slated to be planted under the programme by 2021 at a cost of Rs3.652 billion.

She further said that her ministry has received around $37.46 million in funding from the Green Climate Fund for a Glacial Lake Outburst Flood (GLOF) project in the northern areas of the country.

PM Imran waters first plant of 10 billion trees project

Additionally, Gul said that the government had launched the "Clean and Green Pakistan Movement" on October 8, 2018. In this regards, she said that the Ministry of Climate Change is coordinating its implementation with all the provinces including Azad Jammu and Kashmir (AJK) and Gilgit-Baltistan (G-B).

Regarding the National Forest Policy, she reiterated that it has been approved by the CCI and it is expected to be issued soon after it is approved from the competent forum.

On mitigating effects of climate change, Gul said that her ministry had undertaken various steps to counter climate change including the introduction of the National Climate Change Policy, the National Forest Policy and the Pakistan Climate Change Act 2017.

Published in The Express Tribune, November 17th, 2018.