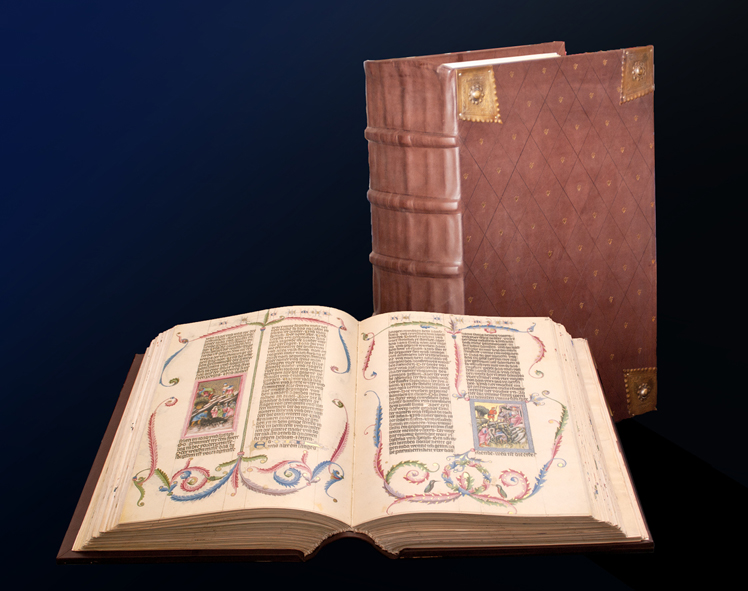 ---
DUBAI, UNITED ARAB EMIRATES: Facsimile editions of ancient manuscripts are fighting the digital revolution in the publishing industry, according to one of the leading publishers offering limited-edition replicas of rare historical texts.

Facsimile edition of a book is a reproduction of the original in limited numbers and is printed in such a manner as to mimic the original document in all aspects.

In the words of Paul Struzl, who is managing director of Akademische Druck- u. Verlagsanstalt (ADEVA), one of the globally renowned Austrian firms working in the publishing business, books are becoming popular once again as people rebel against electronic reading.

Delve into pre-Islamic Arab poetry in modern English

"It [facsimile books] is still a small market, but a growing market for the future," Struzl told The Express Tribune in an informal discussion on the sidelines of Sharjah International Book Fair.

Generally, the term replica is used to refer to items that have been reproduced. For example, a copy of original artwork, a sculpture or some article of jewellry would be called exactly that: a copy. However, the word facsimile is used to denote manuscripts, scrolls, maps or books which have been reproduced using the technology and expertise necessary to replicate the original in every possible form, including any initials, margins and miniature illustrations.

More recently, the use of the word facsimile has broadened as the industry has evolved, with publishers offering high-quality facsimile editions and using terms like fine art or museum quality to differentiate them from normal replicas. However, scholars generally agree that facsimile editions are reproduced books that have been modelled on a unique original.

"It is very hard work to get the facsimile edition ready, because it has to be exactly the same, and the idea is to save the original document so that it can be stored in a safe place," Struzl explained when asked about the process which went behind the production of an exact replica.

In Iraq's city of bookshops, theology and poetry rub spines

The publishing expert stressed that saving ancient texts was an important endeavor. "We want to save the original document for the coming generations, and the same time, intend to give the people of today a chance to continue their research on ancient books and manuscripts."

Librarians and scientists all over the world have long been experimenting with chemicals which stop the ageing of books. However, most books have modern paper in them, which contains acid that slowly breaks down over time, first turning books yellow, and eating away at the cover and the paper inside, eventually turning them to dust. Innovative solutions used by leading libraries have tried several methods to de-acidify paper, including water-based solutions and even nano-technology, but the results have been mixed, at best.




Enter facsimile editions, an out-of-the-box, but necessary, solution to this age-old problem. As physical books become popular again, according to reports in several publications, including Economic Times, Forbes, Mental Floss and The Guardian, the market for ancient texts is gaining new customers across the world. In order to preserve originals, replicas need to be made, and fast.

In addition to providing insights about the future of facsimile editions, the managing director of ADEVA spoke about the state of print media in general, the powerful clients his company usually worked with, and the pressures of running a publishing house in the digital age. Parts of the interview with the international publisher have been reproduced below for interested readers.

In conversation with Paul Struzl

What does ADEVA do exactly?

We are a company that specialises in doing facsimile editions, which means a copy of the hand-written old original, which may be based all over the world.

That means we have to go to the original first, before reproducing it, under contract, of course, with the library, and take pictures of different kinds. Then we go back home, and based on our previous experiences, make some try-outs and corrections for the first print.

With the first print, we go to the original again and compare it, and do the necessary corrections. Afterwards, we do a print of every single page, and compare it to the original again, every single page. If they are the same, we start the printing of the facsimile edition.

It is a long procedure to get the facsimile edition ready. It is a limited edition, between two hundred and five hundred, or at most, a thousand copies. It also comes with a commentary volume, with specialist explanations about the scripts we have replicated.

What kind of customers does ADEVA cater to?

In the beginning, we had lots of libraries. But that changed completely in the 1990s, because the budget of the libraries was reduced steadily as computers took over. As of today, most of our customers are private book collectors, but we still work with libraries and governments around the world.

Which libraries and governments are interested in facsimile editions?

The last book that we did was for the government of Abu Dhabi, six facsimile editions about falconry. Four manuscripts of these six were based in Paris, and two were in Germany, one of them in Berlin.

We have also done projects for the King of Morocco out of his private library, because he wants to give students and academics a chance to do research on ancient manuscripts.

We have also worked together with the biggest libraries in the world, so for example, big libraries on East coast of the United States, or the Getty Museum in Los Angeles. In Europe, we have worked with every national library, as well as Apostolica Vaticana (Library of the Pope), and also with Japanese libraries.

How does ADEVA double-check reproduced manuscripts for errors?

On the one hand, there is always the chief librarian of the library or the museum, and on the other hand, there is always our specialists. Since we are the world-leading company in producing these books, everybody wants to have the same quality of work that we have.

Most libraries are happy that we are producing facsimile editions, because they keep the original safe. More often than not, we get access to unique originals, and have already printed more than 250 editions of rare manuscripts.

How did this business start?

It was the idea of my grandfather, and he started this company in 1949. We have a 70 year anniversary coming up. A lot of priceless manuscripts were damaged or destroyed during the second world war, so he said we have to save these books for the future, and created the word facsimile, which is out of Latin, and means do it exactly the same.




Within ten or fifteen years, the company was already working with the biggest libraries in the world, and we are still doing it. Sometimes, specialists reach out to us about a library which has a very old manuscript and wants a facsimile edition for it.

Sometimes, the input is from outside to choose the manuscript we will later print. But we also do our own research. We always have to look if there is a market for the book we are going to reproduce because we are a company and want to turn a profit.

How do you see the future of print as libraries around the world disappear?

In Europe, books are becoming more important again. Of course, you can go on holiday and read a nice electronic book, but it is not the same feeling as reading from a physical book.

In fact, as our market grows, our books are actually fighting the digital revolution. It is still a small market, but it is a good market for the future. There are so many places in the world which have a rich history and where this business has tremendous opportunity.

Do you have any plans of moving into South Asia?



Yes, of course. We have already printed some facsimile editions of Mughal art from the sixteenth century. Because we have done it, it means we already have customers in South Asia. But we have to have a business partner or a government willing to work with us for us to expand us our business into that region.

Does ADEVA produce a special kind of facsimile edition?

Yes, of course. It is all in the paper, which is specially made, because we have to to get it as close to the original as possible. Many of the ancient manuscripts are written on parchment, but to print on it is difficult, because parchment is natural, and so hard to reproduce.

To get around this, we use a special paper to produce facsimile editions, and only three or four printing houses can print the editions we do, because it is not just the right colour machines that we use, but we also use other capabilities that the state-of-the-art machinery has to offer.

ADEVA at Sharjah Book Fair

The publishing house had also set up a stall at Sharjah Book Fair which housed many of their finest facsimile editions. Struzl underlined that ADEVA strove to produce facsimile editions of books from different parts of the world.

There was a very famous atlas, originally published in sixteenth century Saint Petersburg, Russia. It showed the map drawn by an explorer who had sailed around the world fifty years earlier. The atlas showed a map of South America which was pretty accurate, according to the standards of those times.




Then was also a very special manuscript from the sixth century, believed to be one of the oldest gospels in the world, and had been hand-written on purple paper. According to the publisher, only eight such manuscripts existed around the world. Another bible, this one from Armenia, was displayed at the stall. This particular bible took five hundred years to translate, and was also part of the literary heritage of the United Nations.




A golden Quran was also on sale, which was unique because it had been hand-written onto golden paper and was originally compiled in the eleventh century.




In addition to these, several other historical texts, manuscripts, maps and books, including Mughal art, were on display at the fair for more than a week.