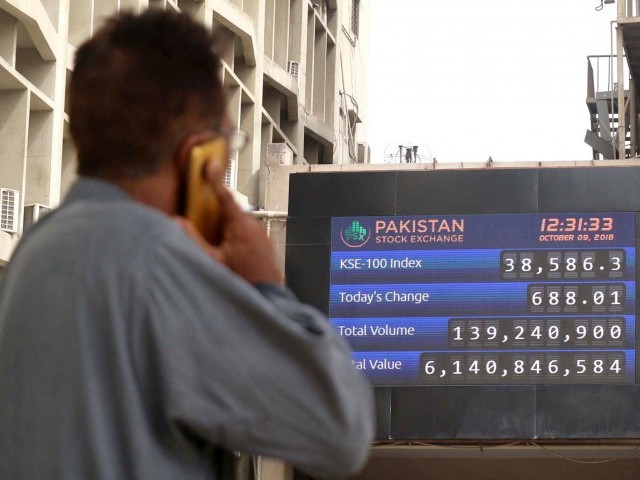 ---
KARACHI: The stock market endured a relatively volatile week as winning streak of the past three weeks came to an end. The equity market shed 615 points or 1.4% in the outgoing week and settled at 41,389 points.

The week kicked off on a negative note as stocks came under massive selling pressure with over 1,000 points being wiped off the benchmark index in the first two days.

The euphoria over likely inflows from China and the UAE died down and investors offloaded overbought stocks before clarity on the assistance front. With no apparent development following Prime Minister Imran Khan's visit to China, concerns over the economic situation added to the sombre mood.

Even though the government signed 15 agreements with China and agreed to trade in local currencies in an effort to reduce dependence on the US dollar, no announcement on the financial assistance was made.

Weekly review: KSE-100 index posts highest weekly gain in a year

Moreover, potential exclusion of select stocks from the MSCI's Emerging Markets index also contributed to the market's decline.

However, a dramatic turn of events was witnessed as bulls once again reigned supreme on Wednesday, spurred by Finance Minister Asad Umar's assurance to the nation that an immediate balance of payments crisis had been averted with the help of China and Saudi Arabia.

Thursday saw a return to the red zone with rising inflation and potential increase in interest rate keeping the market momentum suppressed. Although some recovery was seen on last trading day of the week, overall the market had a lacklustre session and it closed almost flat.

Currently, Pakistan is engaged in talks with the International Monetary Fund (IMF) for a bailout package. Investors were jittery as they closely monitored the developments.

Furthermore, another delegation from Pakistan is currently in China for negotiating and finalising modalities of an economic plan and financial support.

Weekly review: KSE-100 advances 3.57% as buying euphoria continues

Investor participation took a hit during the week as average daily volumes declined 28% to 233 million shares while average traded value dipped 25% to $71 million.

Sector-wise negative contribution came from commercial banks (-278 points), oil and gas exploration companies (165 points) amid a fall in international crude oil prices, cement (105 points), tobacco (64 points), and oil and gas marketing companies (45 points).

On the other hand, positive contribution was led by fertiliser companies (+102 points) and technology and communications sector (24 points).

The steel sector stood out in the news flow during the week. International Industries, in its filing to the Pakistan Stock Exchange, notified that the Canadian Border Service Agency (CBSA) had imposed provisional anti-dumping duty on the company's export of circular welded steel pipe to Canada at 10.1%.

Meanwhile, Amreli Steels announced its third phase of expansion plan - envisioning additional rolling capacity of 605,000 tons per annum to 1,105,000 tons at an estimated cost of Rs6.5 billion to be financed via debt and internally generated equity.

Stock-wise negative contributors were HBL (126 points), UBL (95 points), Pakistan Petroleum (80 points), Pakistan Tobacco (60 points) and Oil and Gas Development Company (54 points).

Fauji Fertiliser Bin Qasim gained 6% during the week amid likelihood of finalisation of its subsidiary's divestment deal with a Chinese company in coming months.

Foreign selling continued in the outgoing week which came in at $9.4 million compared to net selling of $12.6 million last week. Selling was witnessed in textile composite ($3.6 million) and commercial banks ($3.2 million).

On the domestic front, major buying was reported by individuals ($6.7 million) and companies ($3.3 million).

Among major highlights of the week were cement sales growing 5.3% in Jul-Oct 2018, ECC allowing import of 50,000 tons of urea, petroleum product sales declining 32% in Oct 2018, Pak Suzuki Motor jacking up bike prices, General Electric clinching a $60-million coal power plant deal and Canada slapping anti-dumping duty on Pakistani steel.

Published in The Express Tribune, November 11th, 2018.

Like Business on Facebook, follow @TribuneBiz on Twitter to stay informed and join in the conversation.