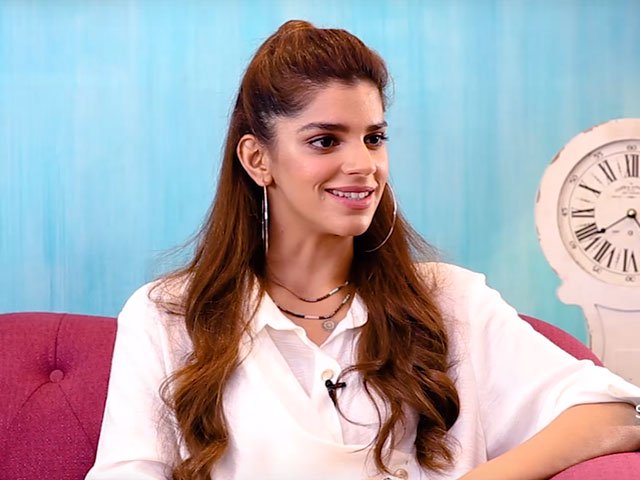 ---
Sanam Saeed radiates calmness. Not just in the way she presents herself onscreen, but the way she speaks, the way she carries herself, the projects she chooses to do. It's in everything.  The 33-year-old isn't one to talk about her personal life publicly. She has always kept matters to herself and she revels in the fact to have done so to her liking.

Last year, her world came crashing down after her mother passed away. And for the first time since, the starlet has decided to talk about her family, her broken marriage and her life mantra.

In a recent appearance on Speak Your Heart With Samina Peerzada, the London-born actor shared how her family became a prominent factor when it came to shaping her life. "I'm the eldest of three siblings," she said. "My mother was an art school teacher and my father was an interior designer. So we've been relatively open minded as opposed to my conservative maternal side."




Her parents' love marriage was quite unusual, she said. With both studying at the same school, her mother's family wasn't all that thrilled the moment they knew Sanam's father belonged to a different ethnicity. However, they fought through it and got married at the age of 30.

"The memories I can gather now of my parents are quite contradicting. My mother was the disciplinarian and my dad was the rule breaker," she shared. "We've had discussions about our childhoods on the dining table of our family home. We had quite an adventurous life. The three of us (her siblings and herself) weren't bound to anything. We weren't discriminated on the basis of gender. My brother wasn't given any advantage just because he was a boy."




But Sanam was always the composed one. "I made sure I got the respect of the eldest sibling. I think that's why it took me quite a while to let my guard down and become closer to my siblings," the Bachaana starlet continued. "I would have liked to do that sooner. I should've bonded with siblings earlier."

Despite her roaring success, Sanam attributed her calm and poised personality to her upbringing. "I think our parents made sure that we were very secure as human beings. Since there's no insecurity, there's no competition. Therefore, I am very content with what I have and who I am as a person," said the Firaq star.




Talking about her school days, the Daam starlet revealed she wasn't your quintessential popular kid. "I was more of the wing-man, you know!" she laughed. "I always had a lot of friends who were boys. I wasn't the 'good-looking, popular kid' in school. But I was certain that I'll be an artist."

Sanam has always kept her distance - even from those she considered family. "I believe in no emotional attachments. I was never the kind. I was 18 or 19, when I had my heart broken and since then I've made a vow to protect it," added the Diyar-e-Dil star. "Another thing I've learned is to never mix friendship and love. Just don't do it."




Few years ago, the news of Sanam marrying 'love of her life' made rounds. However, the Dobara Phir Se actor revealed she made that decision around the time her mother fell ill.

"I think I couldn't balance my marriage and my mother's deteriorating health," she went on to say. "I realised it was unfair to my husband to have my divided attention. I understood he deserved better and should go for that. He deserved the attention of a partner, not another headache and I didn't want to share my time with anyone else but my mother. So when I finally gave up, I had a sense of relief."

Have something to add to the story? Share it in the comments below. 
COMMENTS
Comments are moderated and generally will be posted if they are on-topic and not abusive.
For more information, please see our Comments FAQ