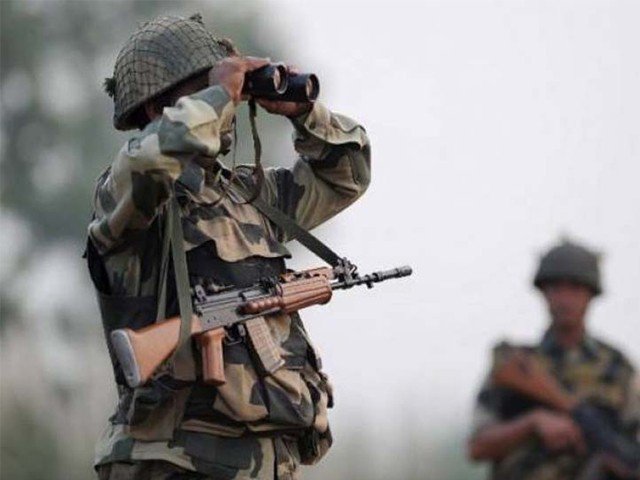 ---
"I've got a plan so cunning, you could put a tail on it and call it a weasel" — this Blackadder quote is so relevant to the so-called Indian surgical strike against Pakistan in September 2016. The masterminds of this pathetic and gawky scheming, perhaps due to some sort of urgency, fastened the tail on weasel's nose instead of its rear. The poor Indian weasel, with its bushy tail in the front and bare hind, went around the jungle becoming a laughing stock. The Indian claim of launching a surgical strike against Pakistan across the Line of Control (LOC) was this weasel with its tail in front. It was nothing more than a figment of silly imagination and a lumbering move. The entire plan was structured with fictional undertones, unrealistic premise and clumsy execution. The fictitious claim was a bizarre exercise in futility that could not gain credence, both within and outside India.

It is pertinent here to understand the connotation and context of a surgical strike. It is an accepted military terminology in which the word 'surgical' denotes the exactitude with which a surgeon aims at intended parts of body while affecting minimum or no harm to unintended organs. Thus a surgical strike is a precise military strike or attack of varying magnitude intended to cause damage to a specific target for specific results without causing any or minimum collateral damage. Such a strike can be undertaken by ground troops or aerial platform — but certainly not through a media operation, as India vainly strove to do. On 29 September 2016, the Indian Army pretentiously claimed to have launched a surgical strike against "terrorist launch pads" across the LOC from India-occupied Kashmir. Since there had been no such significant happening at any location along the Line of Control, other than routine exchange of fire between the two sides, Pakistan emphatically denied any such action.

As the entire exercise was fabricated and constructed from a pack of lies, its sponsors within the Indian establishment found hard to satisfy the media, political opposition and military analysts. The most noticeable was the sheepish look of Lieutenant General Ranbir Singh, then the Director General Military Operations, who appeared on television to announce the surgical strikes — indeed it's hard for a professional soldier, to shamelessly lie in public. Instead of giving the details of "surgical strike," expected from a military spokesperson, he didn't give any because he didn't have any. When the bluff was called louder, the pressure mounted and out of the magician's hat emerged the video clips of "surgical strike." A close scrutiny of those clips further embarrassed India because the international observers and experts found those fake and unauthenticated. The Indian Prime Minister was badly cornered in parliament by the opposition benches. Devoid of any logical counter- argument, he took refuge behind call for patriotism and love for mother India.

While dilating on this matter few pertinent questions are triggered in one's mind — why India had to resort to such an inept move? What were the compulsions? What led to this puerile decision? This entire affair had its linkage with the growing momentum of freedom movement in India-occupied Kashmir. After taking over as India's Prime Minister, Modi embarked on the policy of ruthless suppression in occupied Jammu and Kashmir. Ajeet Doval, his National Security Adviser, was the person behind policy of Indian state terrorism in Kashmir. Use of pellet guns against unarmed protestors, arson, looting, and mass felling of fruit-bearing orchards, abductions and surge in rape cases — all happened as a result of policy directions from the highest executive office of India. One is astounded by the intensity of Modi's hatred for the Kashmiris. Despite Modi's highly repressive actions in the Valley, political and armed resistance became more intense. A young freedom fighter, Burhan Muzaffar Wani, who was immensely popular with the young Kashmiris, was killed on 8 July 2016 by Indian Army troops. His martyrdom sparked a new wave of unrest in the state. The violence and disturbance that erupted after his death caused 96 deaths and injuries to about 15,000 civilians. The Indian Army went berserk in its atrocities using all kind of barbaric techniques of suppression and cruelty. The repressive policies proved counterproductive and added to Modi's frustrations, manifested through his highly belligerent statements in the period preceding the comedy of surgical strike. As usual, the entire blame was lumped on Pakistan with oft repeated accusations of abetting terrorism from across the LOC. The Indian political and military leadership loudmouthed of military action across the LOC further hyped up the circumstances. The Indian electronic media enthusiastically amplified the anti-Pakistan frenzy amongst the masses. Thus, because of its own doings, India drifted into a highly charged situation wherein its leadership had to match its war of words with action against Pakistan or face political embarrassment.

In a bellicose state of mind and to meet people's expectations, the Indian prime minister was all set for a major action against Pakistan across the Line of Control. However, he had only mastered the acumen of killing innocent civilians, whether in Gujarat or in Kashmir, but was clueless about the consequences of such an action against elaborately prepared defences of the Pakistan Army. The Army Chief, General Dalbir Singh, laid before him with ample clarity, the hypotheses related to reaction by the Pakistan Army, tactical constraints, likely losses and chances of escalation. This deflated the aggressive mood of the hawks in the kitchen cabinet and, of course, Modi's. But then came Ajeet Doval, the master crafter of deceit and cunning, with an ingenious plan that, in his assessment, could salvage the situation for his prime minister ie, "A surgical strike — the Indian way." Soldierly character of General Dalbir obligated him to oppose Doval's plan due to its flawed premise and a fictional concept but he had to give in because the prime minister was quick to buy it.

Doval's plan unfolded with an attack on an army camp at Uri in the wee hours of 18 September 2016 by four "militants." The raid was backed up and planned by an Indian intelligence outfit that had penetration in the freedom fighting network with moles that could get such operations launched. It was intended to be a small-scale raid, to be projected as a provocative action justifying attack across the LOC. As the militants opened fire and threw grenades in pre-designated areas away from the tents, the dry grass caught fire. The fire rapidly engulfed the sub-standard canvas tents and resultantly seventeen Indian soldiers were burnt to death while the attackers were also killed. Things went wrong right from the outset. This was followed by a pre-meditated closed- door meeting between the home minister, defence minister, army chief and Ajeet Doval on September 19. Then came the Indian announcement on September 29 about the surgical strike, without any such operation being actually conducted on ground — how amusing.

The entire affair of surgical strike was a botched attempt to pacify the Indian public that had been led to a state of anti-Pakistan frenzy due to belligerent stance of the Indian leadership. It's a sad affair for the Indian army that was made to look miserable and had to own something akin to Don Quixote's charge. The plan heavily relied on media projection without realisation that in today's high-tech age large-scale maneouvres cannot escape satellites and sensors. The follow-up actions of making fiction a reality further embarrassed India and its army. The Indian leaders came up with conflicting and comical details of surgical strike. In crux, the entire affair was a badly messed-up exercise in futility.

Published in The Express Tribune, November 9th, 2018.

Like Opinion & Editorial on Facebook, follow @ETOpEd on Twitter to receive all updates on all our daily pieces.
COMMENTS (9)
Comments are moderated and generally will be posted if they are on-topic and not abusive.
For more information, please see our Comments FAQ