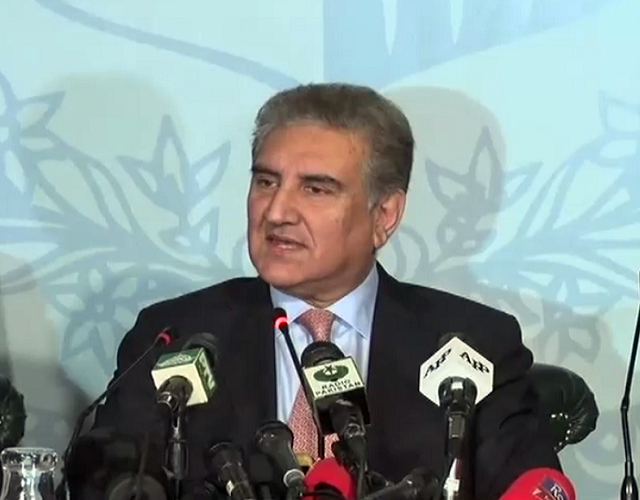 ---
[fbvideo link="https://www.facebook.com/etribune/videos/1012869278898335/"][/fbvideo]

Foreign Minister Shah Mehmood Qureshi said on Tuesday that the bilateral ties with China will further strengthen after Prime Minister Imran Khan's recent visit to the all-weather friend of the country.

Addressing a press conference, flanked by Finance Minister Asad Umar and Foreign Office spokesperson Dr Muhammad Faisal in Islamabad, he said the visit was aimed at achieving four objectives and to dismiss rumours that the Pakistan Tehreek-e-Insaf (PTI) government was not giving due importance to relationship with China.

"We wanted to send a clear message to the international community that we are close to China. Secondly, our relations are unique and will remain so. This tour helped in moving the strategic relationship to an economic partnership," he remarked.

PM, COAS discuss China visit, security situation after TLP protest sit-ins

"I think the tour was very beneficial in a bid to give it an economic dimension. Around 15 agreements and MoUs have been signed at the end of the tour which included that the strategic dialogue between the two sides be upgraded and now it will be upgraded to the foreign ministers level."

Qureshi said that during the visit, it was also agreed that prisoners will be transferred so that they can spend the sentence in their own countries. "Another MoU was regarding poverty alleviation. China has immense experience in this regard," said the foreign minister.

Another MoU was signed in the agriculture sector, said the minister.

Pakistan to begin talks with IMF over yet another bailout

Qureshi said the second purpose of the visit was to seek assistance to stabilise the country's economy. "Discussion were held to increase exports. We have also decided that the second phase of FTA [free trade agreement] will be completed soon and by April we will complete negotiations in this regard."

Qureshi said the third objective of the visit was to exchange information regarding initiating second phase of the China-Pakistan Economic Corridor (CPEC). "There is a national consensus and we are moving forward with unity. We held good discussions on the second phase and it was agreed that the CPEC will be made a gateway for progress prosperity and connectivity."

China opposes proposal of involving third party in $8.2b ML-I project

The fourth objective was to attend China's export and import exhibition, where 130 countries participated, said Qureshi. He said Pakistan was given a center stage and keynote address.

Speaking on the occasion, Finance Minister Asad Umar said China's cooperation was sought in doubling the country's exports by the yearend. "Balance of payment crisis is over in Pakistan," he added.