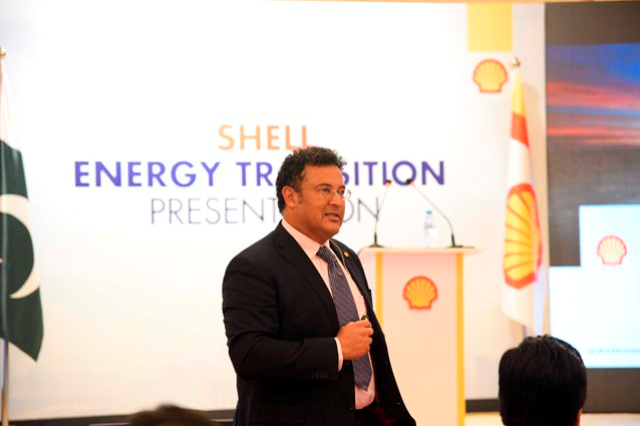 ---
In a convention held on November 1st, 2018, at the Serena Hotel, Islamabad, Shell engaged with the government, business leaders, diplomats and academia to share insights on energy transition and help shape discussion around building a sustainable energy future for Pakistan.

The Shell event hosted more than 50 thought leaders and dignitaries, including Dr Ishrat Hussain, Adviser to PM on Institutional Reforms, Mr Sher Afgan Khan, Additional Secretary, Ministry of Energy, Dr Tanveer Ahmad Qureshi, Additional Secretary, Ministry of Energy and Ms Uzma Adil, Chairperson OGRA.

The presentation was headlined by Mr Roger Bounds, Vice President, Strategy & Portfolio at Shell, who shared knowledge on energy for a changing world, success stories of policy actions for clean energy and suggestions for Pakistan. An LNG outlook was shared by Mr Ajay Shah, Vice President, Shell Energy Asia, highlighting that Pakistan is amongst the top 10 LNG importers in the world.

Pakistan is the sixth most populous country in the world, and increasing access to energy for its people goes hand-in-hand with economic activity and enabling opportunities for a growing population seeking to improve their standard of living.

"There is a dual challenge of how to transition to low-carbon energies to manage risks of climate change, while also extending the benefits of affordable and reliable energy to everyone in Pakistan," said Mr Haroon Rashid, Chief Executive and Managing Director of Shell Pakistan. "We believe this is an achievable ambition if we all work together, and today was a start to further this important goal."

Mr Roger Bounds, Mr Ajay Shah and Mr Haroon Rashid also held meetings with Mr Shibli Faraz, Leader of the House, Senate, and Ms Uzma Adil, Chairperson OGRA to discuss Shell's business interests in Pakistan.
COMMENTS
Comments are moderated and generally will be posted if they are on-topic and not abusive.
For more information, please see our Comments FAQ