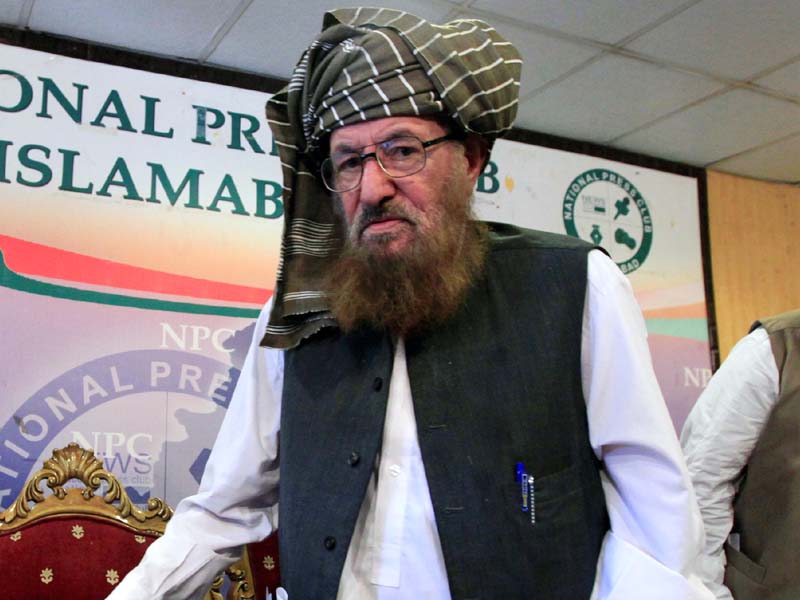 ---
PESHAWAR: An influential religious and political leader, Maulana Samiul Haq Haqqani was commonly known as 'the spiritual father of Taliban'.

He was the custodian of Darul Uloom Haqqania, a sprawling seminary in Akora Khattak, which was established by his father Maulana Abdul Haq in 1947, a noted Islamic scholar of the Deobandi school of thought and founding leader of Jamiat Ulema-e-Islam, Pakistan.

Born on December 18, 1937 in Akora Khattak, Nowshera, Haq due to his age and unsteady health had sidelined himself from active politics, dedicating most of his time to Madrassah Haqqania, where he was the custodian since his father's death in 1988.

On Friday, he was invited to Rawalpindi to address a protest against the acquittal of Aasia Bibi by the Supreme Court in a blasphemy case. However, he couldn't reach Islamabad and went to his residence for rest, where he was stabbed to death by unknown persons, said his son Maulana Hamidul Haq Haqqani.  Earlier he had delivered his last speech to a gathering in Akora Khattak.

"Despite all political differences, we have always had relationships of mutual respect," said JUI-F chief Maulana Fazlur Rahman while talking to the media. He said he had studied at Haqqania for 11 years and considered Haq and his father as his teachers.  "This is shared grief. Our relationship with his family will always remain intact."

Maulana Samiul Haq assassinated in Rawalpindi

Father of Afghan Taliban?

Haq's fame reached its peak when the Afghan Mujahidin were fighting a war against the Soviet Union.

During this time most of the Afghan Taliban's Shura members had studied in Darul Uloom Haqqania under Samiul Haq, thus he was much revered amongst the top Taliban leadership.

Ahmed Rashid in his book 'Taliban: The Power of Militant Islam in Afghanistan and beyond' has also written he was referred to as "the father of Taliban".

He added that in 1999, at least eight Taliban cabinet ministers were graduates of Haq's madrasah and dozens of graduates of his seminary served as Taliban governors, military commanders, judges and bureaucrats during their regime in Afghanistan.

He went on to write that Younis Khalis, a Mujahideen commander in Afghanistan during the Soviet-Afghan War and Muhammad Nabi, both studied under Haq. "With his demise, a link between Taliban and peacemaking process in Afghanistan has been lost," said Hafiz Samanul Haq Haqqani, his nephew who is the editor of Mahnama Nawai Haq, a monthly magazine of Darul Uloom Haqqania to The Express Tribune.

"Even recently Afghan ambassador met him to secure his support for peacemaking in Afghanistan. But now, they have lost this important link, I don't think there is anyone left now, who has enough influence on Afghan Taliban."

POLITICAL CAREER

Samiul Haq's father Maulana Abdul Haq, who was one of the founders of Jamiat Ulema-e-Islam Pakistan (JUI-P), remained Member of National Assembly for three terms, defeating Defence Minister Pervez Khattak's father Nasrullah Khattak twice.

Similarly, Haq entered into practical politics in 1980. After his father died in 1988, he parted ways with Fazl, the then chief of JUI-P and formed his own faction known as Jamiat UIema-e-Islam-Sami (JUI-S). He was elected as Senator twice, from 1985 to 1991 and from 1991 to 1997.

The JUI-S founder remained a member of Majlis-e-Shura of former president General Ziaul Haq.

Haq also served as the chairman of Difa-e-Afghanistan Council and was presently heading Difa-e-Pakistan Council, which comprises more than 30 religious and political groups. In 2013, he worked for the revival of MMA but failed.

Subsequently, months before the 2018 general elections, he declined to be a part of the religious parties' attempt to cobble together another alliance as he had already announced support for the Pakistan Tehreek-e-Insaf.

PERSONAL LIFE

Maulana Sami Ul Haq had received his early Islamic education from Jamia Akora Khattak and graduated from his own seminary. He had married twice, and lost one of his wives in 2004. He has left behind nine children and a wife.

Haq has four brothers including Maulana Anwarul Haq Haqqani, who is presently responsible for the administration of Darul Uloom Haqannia. His brother Maulana Mehmood Ul Haq Haqqani was a professor of chemistry at the University of Peshawar, where he was called Father of Chemistry and later he represented Pakistan as Deputy Ambassador in Saudi Arabia.

His nephew Hafiz Samanul Haq Haqqani told The Express Tribune that Maulana Ahmed Shah Haqqani, who accompanied Haq, was unfortunately not present when attackers entered the house as he had been sent to run some errands.

He added his deceased uncle has authored dozens of Islamic books relating to Fatwa's, life of Islamic notables, guidelines on public speeches. Fatawa-e-Haqqania, one of his books, has been published in three languages and is taught as basics in Fatwas across the country.  "He was a soft person. In his death, millions of students have lost a benevolent religious scholar," said his nephew.
COMMENTS (3)
Comments are moderated and generally will be posted if they are on-topic and not abusive.
For more information, please see our Comments FAQ