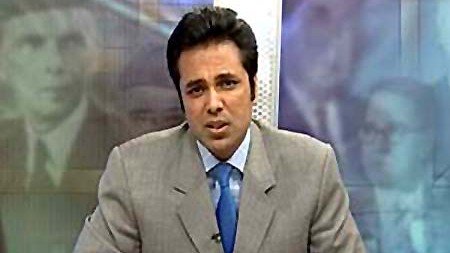 ---
Pakistani journalist Talat Hussain and his crew will be arriving to Pakistan today after being released following an attack on their Gaza-bound convoy by Israel.

Foreign office spokesman Abdul Basit said in a statement, that arrangements for the safe arrival of Talat Hussain, Raza Mehmood and Nadeem Ahmad Khan have been made.

Talking to the media on the phone from Jordan, Talat Hussain said only a fraction of Israel's actual brutality is shown on the western media.

He has said he will reveal the ground realities in the area after he arrives in Pakistan.

Malik facilitates safe return of Pakistani journalists

The safe return of missing Pakistani journalist Talat Hussain and his crew were made possible by successful cooperation between Interpol's General Secretariat headquarters and its National Central Bureaus in Amman, Islamabad and Jerusalem, according to a press release by Interpol.

The release attributes the successful outcome as being a result of the strong personal interest taken by Interior Minister Rehman Malik  for obtaining reliable information about the well-being of the three Pakistani nationals who were aboard one of the ships part of the Freedom Flotilla that was attacked by Israeli forces.

Rehman Malik shared the press release on Twitter. Parts of the press release are reproduced below:

"Minister Malik's resolve to rapidly obtain reliable information about the location and well-being of the three Pakistani nationals was such that he personally called Secretary General Noble to request the organization's immediate technical and expert assistance.  Since Monday 31 May, Minister Malik has remained in constant and direct contact with INTERPOL's Secretary General, who in turn maintained regular contact with NCB Jerusalem whose assistance was swift and forthcoming.

"I cannot recall another time where a Minister of Interior such as the Honourable Rehman Malik was engaged in such direct and frequent exchanges with me in an ongoing operational matter to ensure that our National Central Bureaus had the necessary information and support for the safe return of missing persons," said Secretary General Noble.

Following their safe return in Jordan, Talat Hussain Syed and his two colleagues Nadeem Ahmed Khan and Raza Mehmood Agha, are now in the care of the Pakistani Embassy in Amman before their planned return to Pakistan."
COMMENTS (20)
Comments are moderated and generally will be posted if they are on-topic and not abusive.
For more information, please see our Comments FAQ