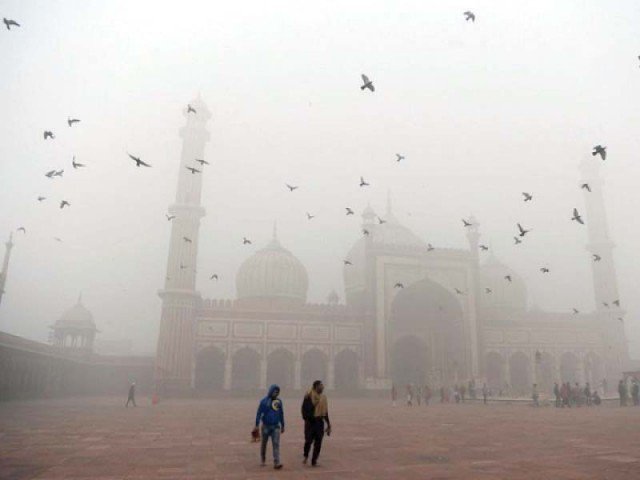 ---
LAHORE:

With the onset of smog season, the Punjab health department has alerted all the hospitals in the provincial capital to make the necessary arrangements.

Reportedly, there is an influx of patients with chest infections, the flu and eye related issues in hospitals across the city. Keeping in mind the fact that the season has only just started, the health department has purchased medicines for patients with eye infections and the flu.

Lahore and villages surrounding the city have been affected by the phenomenon. Experts predict that the situation will become even more dangerous in the coming week.

"We are trying our best to counter smog. We have directed hospitals to make the best possible arrangements for citizens," stated Punjab Health Department Director General Dr Munir Ahmed.

"There is no medicine to treat the effects of smog, there are only precautionary measures which citizens can adopt during the season. Our department will try our best to provide citizen's with medical facilities," he added.

The city first faced this phenomenon last year. However, it is disheartening to see that old factories, rickshaws and older vehicles are destroying our efforts to counter it, he maintained.

Factories and vehicles are increasing the level of air pollution within the city. On Monday, the Punjab government decided to seal all those brick kilns which have not adopted the prescribed technology from October 27 as they are contributing towards air pollution.

Medical experts have advised the public to use face masks and to take special care during smog season especially small children and those suffering from asthma and tuberculosis.

"Smog is not a simple thing to deal with; people affected with smog can become cancer patients in the long run. Eye diseases and incidences of the flu will increase in the coming months. Citizens should use face masks and should wash their eyes with water if they feel irritated," said Dr Abdul Basit, a general physician.

In the morning, citizens travelling on motorcycles should be careful in order to avoid eye and chest infections. Further, patients with heart diseases and high blood pressure should also be cautious," he advised.

There is almost no greenery left in and around Lahore due to deforestation while more and more people have migrated to the city, articulated Punjab University Mountain Research Department Director Dr Munawer Sabir.

The end of summer was once a beautiful season in Lahore. But for the past few years we have had to deal with smog. If we do not plant more trees in the foreseeable future, the situation will become worse, he warned.