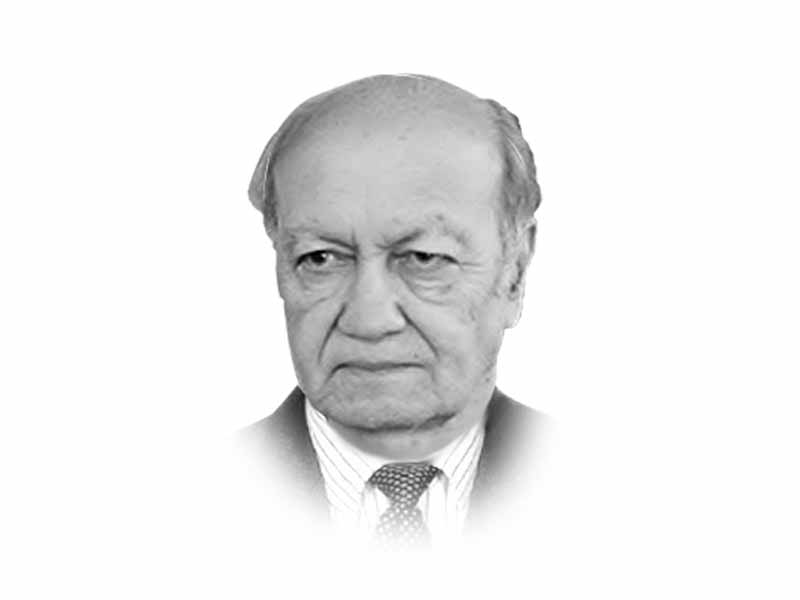 ---
The recent unfortunate event in the Saudi embassy in Turkey in which the Saudi journalist Jamal Khashoggi was murdered shook the conscience of the world and will continue to be the focus of media for a long time. And as New York Times described it that "Saudi Arabia is facing perhaps its greatest international crisis since the revelation that Saudi citizens helped plan and carry out the Sept 11, 2001, attacks on the United States". The other sad aspect is that it seriously strained relations between two brotherly Muslim countries with whom Pakistan enjoys excellent relations. More significantly, it raised a broader question of the rule of law, state of human rights, stage of democratic evolution and overall progress in the Muslim countries. If only this tragic event could spur the conscience of the rulers of Muslim countries to reflect on what their governments stand for in terms of human rights, rule of law and accountability to their people and take definitive measures toward improvement it would be some consolation. As the situation exists this transition would be considered an idealist dream.

But are Muslim countries destined to continue to be the laggards of the world, without representative governments and perennially dependent on major powers for their defense, economy and political support. These questions cannot continue to be brushed aside. More so, when the rich Muslims from Arab and non-Arab countries have staggering amounts of money stacked in the United States and Europe and their fellow countrymen are poor. This continuous flow of wealth from Muslim countries provides a huge boost to Western and particularly American economy. It was therefore not surprising when President Trump handled the current Saudi crisis by initially down playing the incident while expecting to extract greater concessions on the economic and political front as a quid pro quo.

Having strong ties with the United States and other major powers China and Russia is clearly what countries generally aim at. The Saudis have maintained strong political ties with the United States through personal friendships with the powers that be. But these relations should be mutually beneficial and policies so geared that they bring beneficial outcomes for the people and not merely the elite.

Education and training in United States and connections with powerful groups or individuals are considered prerequisites for the elite of oil rich Middle Eastern countries. Besides, a great proportion of the Saudi and Arab investments are in the United States major banks and energy, defense, technology and media companies. The attraction of Saudi procurement of defense hard and software to the tune of 110 billion dollars has been a major consideration for Washington that demanded subtlety while handling the current crisis. Washington expects Saudi Arabia to maintain stability in oil prices by increasing production while he presses with his sanctions against Iran. This was perhaps another consideration for United States to go soft on the Khashoogi crisis. Not surprising that President Trump's initial reaction was muted but when pressure from the Congress and media increased his remarks became stern. Nevertheless, commercial and strategic considerations will prevent Washington not go beyond strong rhetoric and sermonising.

Indications are the European countries would take a similar position. Several big corporations have major lucrative contracts like the French oil company Total that has signed for setting up a petro chemical plant for nine billion Euros or the recent deal of the British company BAE systems that is selling 48 Typhoon combat jets.

It is indeed tragic that most of the Middle Eastern countries today are stuck with regimes that are autocratic as well as having illiberal and conservative societies. Their regimes firmly believe that democracy is an alien concept and use this argument to perpetuate their illegitimate capture of power. Any movement toward democracy is suppressed on the basis that it would lead to fundamentalist take over. This has led to the rise of powerful groups like Hamas and militant Islamic groups. What is seldom realised that when the state denies the freedom to its people they become either more aggressive in the long term or disinterested? Other dangerous outcome that is still being overlooked is that autocratic regimes have given rise to terrorism. When masses are disillusioned they turn their anger toward the state or against important elements of the society. Syria, Libya and Yemen are classic examples of these phenomena. That in turn makes the state even more repressive and this sequence of events becomes difficult to break.

This process of alienation may take time but it is very much a possibility.

The glaring deficiencies of the Arab and Muslim world are practically in all critical areas. Whether it is human development, economy, political institutions or rule of law or their treatment of citizens (especially women), and in dealings with other nations. In the field of science and technology, industrialisation and modern agriculture they are decades behind the West. As a consequence they are heavily dependent on advance countries for even processing their raw materials and for meeting their defense and military hard and software.

It is important to bear in mind that no country or countries are destined to be poor. As serious studies have indicated that it is the political and economic institutions that underlie economic success or the lack of it. There is also a strong synergy between economic and political institutions. Pakistan is a classic case where both weak political and state institutions have led to an economy in perpetual distress where a small elite enjoys maximum benefits.

It is difficult to predict how recent events given their complex and dynamic nature will impact on security and well being of the people of the region especially in the Middle East. The fluid state of affairs could lead to increased volatility in the region. One, however, hopes these recent set backs give rise to an Arab awakening leading to building more modern and orderly political systems instead of the authoritarian structures that have dominated the region.

Published in The Express Tribune, October 24th, 2018.

Like Opinion & Editorial on Facebook, follow @ETOpEd on Twitter to receive all updates on all our daily pieces.
COMMENTS (2)
Comments are moderated and generally will be posted if they are on-topic and not abusive.
For more information, please see our Comments FAQ