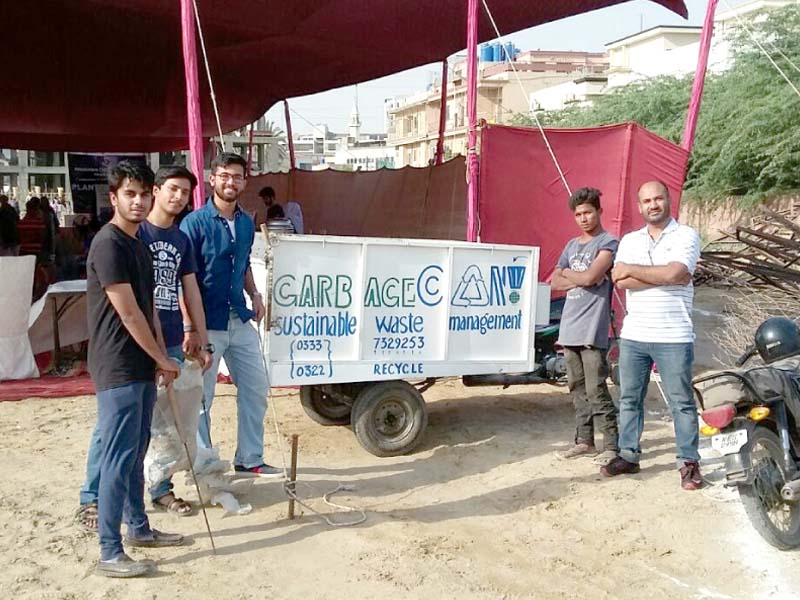 ---
KARACHI: Karachi — a conurbation of around 21.2 million people is in the midst of a 'garbage crisis' that continues to pollute and reeks the city, making it one of the world's least livable cities (134th in a list of 140 cities) according to a study carried out by the Economist Intelligence Unit (EIU) earlier this year.

The crisis seems to have no end in sight, as each successive government promises to clean up the financial hub of the country but falls short of its commitment. But even as the governments and its agencies fail to deliver, citizens are literally picking up the "broom" to clean up the city.

energy generation: IMC to develop garbage recycle system

'GarbageCAN' is one example of a social enterprise that is encouraging citizens to adopt different 'spots' across Karachi. So far, GarbageCAN has successfully adopted and cleaned up parts of Karachi University, the areas surrounding BBQ Tonight in Clifton, Sindh Institute of Urology & Transplantation (SIUT) and Gharhi Khata near Light House, Saddar.

Ahmad Shabbar, a social entrepreneur and founder of 'GarbageCAN', said that the idea was not just to clean up neighbourhoods, but also raise awareness on the need to manage and recycle waste through sustainable practices.

Humble origins

Shabbar first had the idea of doing something to resolve the city's garbage crisis back in November 2016 when he completed his studies in the US and returned to Pakistan. "When I came back after living in the US for four years, I only saw garbage everywhere but fortunately in those days there was a lot of talk of cleaning up the city, so I happened to come across the 'FixIt' movement and was instantly inspired to do something of my own," he said.




He initially observed how Afghan garbage scavengers worked in the city and after talking to sweepers on the streets, he discovered that the recycling business had a lot of potential. "I found that the recycling industry happens to be quite big in the city, so I wanted to create an initiative that not only focuses on recycling but also provides a comprehensive plan on waste management," he said. "This is how I started GarbageCAN — a sustainable waste management initiative. I use the word 'sustainable' because I want this initiative to be sustainable for our communities, the environment and for my employees."

As an early startup, Shabbar has crowd-funded $5,000 through GoFundMe to generate enough funds to keep his venture in business. Besides, GarbageCAN also works with restaurants, schools and other business ventures such as Happy Palace Grammar School, Dawood Public School, BBQ Tonight and previously, even the University of Karachi, to collect both their recyclable and non-recyclable waste.

"GarbageCAN is working towards creating an app through which we can receive requests to collect recyclables that will be sold off to different recycling companies in the city," he told The Express Tribune. "For now, we receive recyclables from the public through our Facebook page or charge our clients a nominal monthly fee in exchange for a comprehensive waste management plan. We're also encouraging citizens to 'adopt' different localities for a small donation, which can be cleaned up by our staff," he added.

According to Shabbar, around 12,000 tonnes of waste is produced per day in the city — a figure postulated to rise to 16,000 tonnes by 2020. "Very few people know that only 9,500 tonnes of trash is picked up and around 2,500 tonnes is left on the streets," he said.

"Even the garbage that is being picked up is sent to landfill sites such as Jam Chakro and Ibrahim Hyderi, where it is burned to pollute the environment," said Shabbar. "A large chunk of the collected waste is directly dumped into our drainage systems and even into the sea, due to which our marine and coastal ecosystems are being polluted," he lamented.




System's failings

Asked why the local government has been unable to resolve the garbage crisis in Karachi, Shabbar blamed it on two things — inefficiency and incompetence. "The government is inefficient in not focusing on recycling and other sustainable waste management practices and then there is political incompetence, due to which the Karachi Metropolitan Corporation (KMC), Sindh Solid Waste Management Board (SSWMB) and even political stakeholders are only busy in fighting over their jurisdictions."

Waste disposal: Garbage dumps creating health hazards

According to Shabbar, inefficiencies are quite common in the informal industry of recycling. "We see 'Kachra Kundis' or public garbage installations all over the city, where garbage must be collected by the municipal authorities, but instead we see that the garbage is stored at such sites for days without any notice," he explained.

"Garbage scavengers usually take away only the valuables and leave the not so valuable garbage for the government to dump around. If only the same valuable garbage can be recycled by the government or a formal public-private entity, such private companies can be taxed and the government can benefit from it," he went to add.

"'Kachra Kundis' in Karachi are rented out storage places and most of the rent from such places directly goes into the pockets of influential people," Shabbar pointed out, adding, " the local government has really not learned from its failure to clean up the city".

Shabbar proposes that if only the city government installs more dustbins around the city and a general sense of civic responsibility is developed amongst citizens to not throw trash around, dump it in the oceans or burn it, "Karachi can be turned into one of the cleanest and greenest cities in Pakistan," he adds.

Published in The Express Tribune, October 19th, 2018.