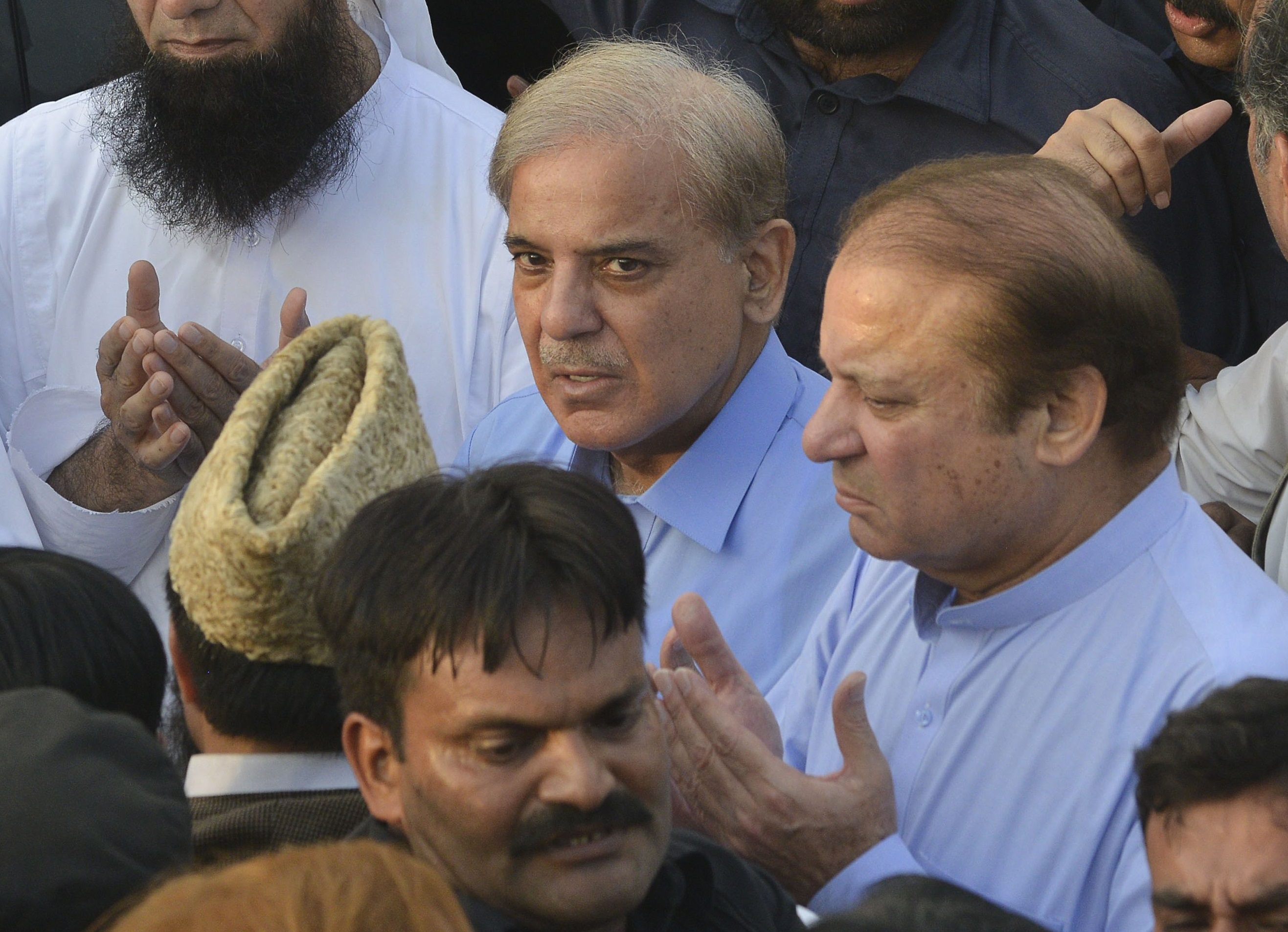 ---
ISLAMABAD: Disqualified prime minister Nawaz Sharif on Tuesday defended his brother Shehbaz Sharif, who was arrested by the National Accountability Bureau (NAB) on October 5 in connection with the Ashiyana Housing Scheme scandal, and called NAB's action highly deplorable.

"If arrest of Shehbaz Sharif is not political vendetta then what is," said the former PM, who spoke to reporters inside the accountability courtroom for the first time since his release from Adiala jail on September 19.

"Prime Minister Imran Khan is saying that 50 more people would be arrested. [My question is] who is telling him and the government about more arrests? Do these kinds of statements suit the government?" he added.

Sharif said that Shehbaz worked tirelessly and served people of Punjab without any discrimination. He said Shehbaz's work was appreciated at the national and international level and NAB's treatment of him is distressing. "If this is accountability then it is highly deplorable," he added.

Shehbaz sent on 10-day remand by accountability court in Ashiyana scam

Former PM revealed that Shehbaz Sharif, who is both the leader of opposition in the National Assembly and the Pakistan Muslim League-Nawaz (PML-N) president, is suffering from cancer but despite of that he worked hard and ignored his health.

Shehbaz has been remanded in NAB custody for 10 days. In a detailed statement issued later, the accountability watchdog accused him of misusing authority in connivance with some top officials and illegally canceling a rightfully awarded contract to favour another firm.

Nawaz Sharif said the Khyber Pakhtunkwa (K-P) government gave contract to a company which was earlier rejected by Shehbaz, adding that NAB should investigate why the K-P government gave contract to such a company. NAB should file reference in that case too, he said.

When asked to comment on the current political situation in the country, Sharif said: "I will speak about it but not now. I do not want to speak now."

NAB references

Muhammad Arshad, judge of the accountability court holding Sharif's trial in two NAB references, revealed that he has written a letter to the Supreme Court seeking more time to conclude Al-Azizia & Hill Metal Establishment (HME) and Flagship and other companies' references.

Shehbaz Sharif arrested by NAB in Ashiyana Housing scam case

In the letter, the judge has informed the apex court about the cases' progress. If granted this would be the sixth extension given to the accountability court since Sep 2017 when the accountability court started hearing NAB references against Sharifs.

Sharif and his sons, Hussain and Hassan, have been named in all three references – Avenfield, Azizia & HME and Flagship and other companies' references. His daughter Maryam and son in-law Captain (retd) Safdar stood trial in the Avenfield Apartments reference alone.

On July 6, an accountability court judge Muhammad Bashir convicted and sentenced Sharif, Maryam and Safdar respectively to 10-year, seven-year and two-year imprisonment in the London flats reference.

Later, the Islamabad High Court (IHC) transferred the two remaining references to Judge Malik after Sharif's counsel filed petition before the IHC and requested to transfer the cases to any other court.

On Tuesday, Sharif's counsel Khawaja Haris continued cross examination of the investigation officer in Al-Azizia & HME reference. He will resume cross examination on Wednesday.