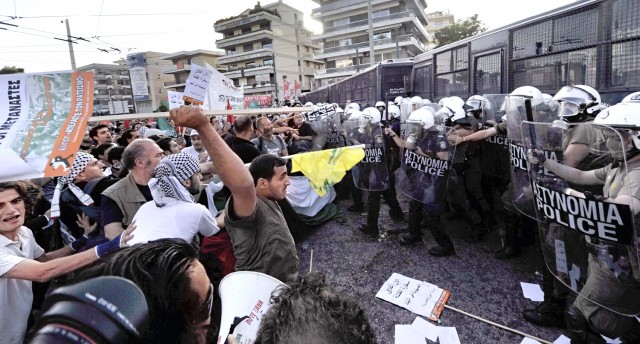 ---
UNITED NATIONS: The UN Security Council on Tuesday condemned the Israeli attack against a flotilla carrying humanitarian aid to Gaza and called for an impartial investigation.

The emergency session lasting more than 12 hours pitted Turkey against the US in calling for a strong condemnation of Israel, diplomats said.

In the end, the statement read by the president of the council Claude Heller, Mexico's ambassador to the United Nations, condemned "those acts which resulted in the loss of at least 10 civilians and many wounded."

"The Security Council took note of the statement of the UN Secretary-General on the need to have a full investigation into the matter and it calls for a prompt, impartial, credible and transparent investigation conforming to international standards," the statement said.

However, the statement fell short of a call for an independent investigation, with the US backing an Israeli investigation.

"We have every confidence that Israel can conduct a credible and impartial and transparent, prompt investigation internally," Alejandro Wolff, the deputy permanent US representative, said. The US has declined to directly condemn the attack.

Israeli commandos carried out the pre-dawn raid Monday in international waters on vessels carrying hundreds of activists bringing food and medical supplies to Gaza to circumvent an Israeli blockade.

Israeli military puts the death at nine people, while other sources said as many as 16 people had been killed.

The Security Council requested the immediate release of all ships and civilians held  by Israel. Israeli public radio earlier reported, however, that Israel would hold 480 of the activists and expel 48 others. The council reiterated its grave concern over humanitarian situation in Gaza, which it said was "not sustainable." The statement emphasised that the only viable solution to the Israeli-Palestinian conflict was a two-state solution and urged the parties to act with restraint. Protests against the raid continued worldwide on Tuesday. Meanwhile, the international Red Cross revealed that it had been granted access to the detained activists from the aid flotilla. "Our priority is to check on the condition and whereabouts of the people wounded and of those detained by the Israeli authorities," said Pierre Wettach, head of delegation of the International Committee of the Red Cross.

Published in the Express Tribune, June 2nd, 2010.