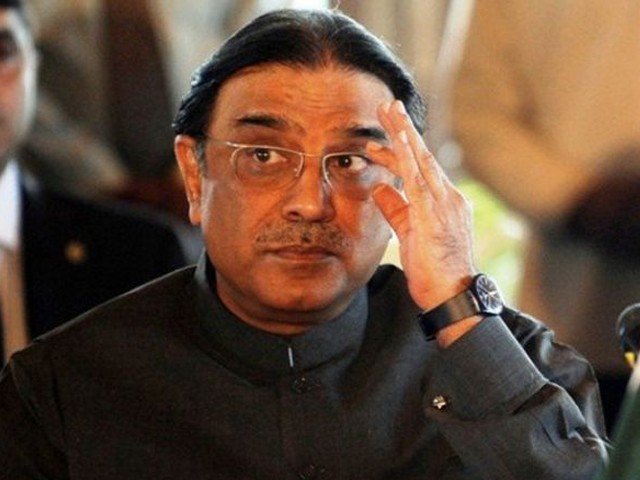 ---
HYDERABAD: Pakistan Peoples Party (PPP) Co-chairperson MNA Asif Ali Zardari has belatedly taken notice of the harassment case of a university's female student in his Nawabshah constituency. MPA Sardar Ghulam Qadir Chandio told the media on Wednesday that Zardari has asked his sister, MPA Faryal Talpur, to address the complaint on priority.

The development comes after another sister of Zardari, Health Minister Azra Fazal Pechuho, last week termed the harassment allegations baseless. The controversy was reported three weeks ago when Farzana Jamali, a final year student of Shaheed Benazir Bhutto University's (SBBU) English department, disclosed that her department's acting chairperson, Aamir Saeed Khattak, has been harassing her.  She had also accused Vice Chancellor Arshad Saleem Arain of connivance.

Chandio said that Talpur has summoned him and another PPP local leader, Ali Akbar Jamali, to Karachi for fact sharing. Four separate inquiries into the allegations have been conducted so far. Two of them were ordered by the Sindh High Court after a suo motu notice. The boards and universities secretary and SBBU also carried out separate inquiries.

On Wednesday, the provincial ombudsman also took notice and ordered Arain and Khattak to appear before him on September 24. Arain and Khattak also appeared in a local court on Wednesday to obtain extension in the bail as both of them are nominated in the FIR under charges of harassment. They were directed to appear in court again for the bail on October 2.

"We feel relieved after hearing that the PPP's leadership has taken notice," said Iqbal Jamali, an uncle of the student, who had earlier warned of starting a long march to Karachi and staging a sit-in outside the CM House in protest. "But if no action is taken beyond the notice, we will start the long march."

Accusing the provincial government of acting as partisan, the family of the university student had blamed the government for failing to conduct an impartial inquiry, citing Pechuho's statement that the student was lying.

Background

Earlier this month, Farzana had addressed a press conference in Benazirabad district where she had leveled allegations against Prof Khattak, accusing him of harassing her for the last five months.

"He has been asking me to give him my mobile number and meet him personally in his office," she had alleged at the press conference. Farzana claimed that other students of her department also had similar complaints about the same teacher. According to her, she is the first girl of her village who had fought to be allowed to enroll in a university for higher education.

She said students were being threatened that if they dared to complain, they may face consequences in the form of disruption of their academic career.

She claimed that when her father, Aijaz Ali Jamali, who is also a teacher, took the complaint to the VC he tried to suppress the matter and got Aijaz arrested by the police by registering a complaint.

The same day, the varsity's spokesperson, Kashif Noorani, had said that the VC had formed a three-member inquiry committee to investigate the matter. "The committee will submit its report to the VC in three days," the spokesperson had said.

A day later, the secretary for boards and universities, Alia Shahid, had also formed a four-member committee to investigate the matter. The committee comprised Prof Dr Abdul Qadeer Rajput, Prof Dr Parveen Munshi, Naushero Feroze DC Anwar Shah and deputy secretary of boards and universities Sohail Anwar Baloch. VC Munshi's name was only added to the committee after backlash from the media that it lacked a female member.

The Sindh High Court, meanwhile, took notice of the incident on September 5 and ordered the district and sessions judge and Nawabshah DIG to conduct separate inquiries within three days. The judge recorded her statement on September 7.

Health minister's reaction

Meanwhile, in response to the harassment allegations, Pechuho had claimed that Farzana was a liar. "I personally got the matter investigated and I have come to know that she [Farzana] is lying," Pechuho had told the media in Benazirabad.

Her statement drew sharp criticism from other political leaders, student organisations as well as human rights activists, who held several protest demonstrations in support of Farzana.

Pechuho, however, had maintained that the allegations leveled by Farzana were baseless. "She was scolded for remaining absent from classes. In reaction, her family assaulted the teachers." A police case was registered against Farzana's father after he assaulted the teachers and in reaction, the student fabricated allegations against the teacher and the VC, she had added.

Backlash

"After Pechuho's statement given in support of the teacher and the VC before conclusion of the probe, we don't expect an impartial investigation," Ayaz Latif Palijo, general secretary of the Grand Democratic Alliance, had said. Palijo had asserted that only a judicial investigation would be acceptable to all.

His stance was echoed by Pakistan Tehreek-e-Insaf MPA Haleem Adil Sheikh, who had earlier visited Farzana's family in Benazirabad and pledged support to her.

Shaikh condemned Pechuho's statement, saying she should have waited for the inquiry committee to reveal its findings before making any such announcement.

"In light of Pechuho's statement, the inquiry committee's investigations have been rendered useless," he had said.

Published in The Express Tribune, September 20th, 2018.