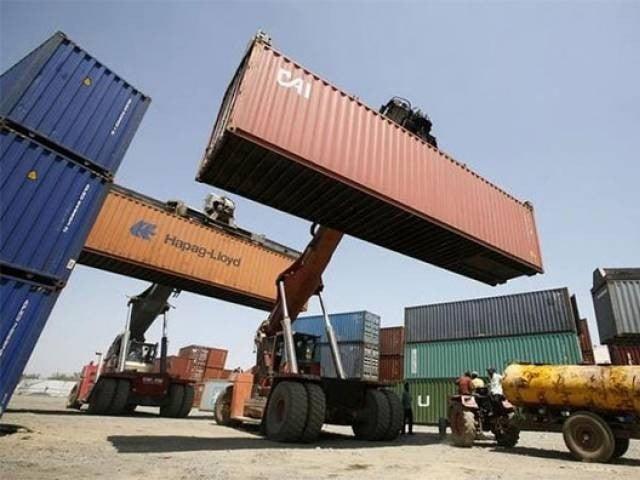 ---
KARACHI: Pakistan's current account deficit (CAD), a major source of concern for the past couple of years, surprisingly narrowed down 72% to $600 million in August 2018 compared to the previous month because of a notable drop in imports.

The deficit - which is the outcome of higher expenditures in foreign currencies than the earnings - stood at $2.12 billion in the previous month of July, the State Bank of Pakistan (SBP) reported on Wednesday.

Imports slowed down 19% to $4.47 billion in August compared to $5.49 billion in July.

"The drop in imports (however) indicates an economic slowdown," economist Ashfaque Hasan Khan said in comments to The Express Tribune.

A steady growth in export proceeds and worker remittances also extended their due support to the massive drop in the current account deficit, "which seems to be seasonal due to Eidul Azha in August," said Arif Habib Limited Head of Research Samiullah Tariq.

He said the current trend showed the deficit would come down in fiscal year 2018-19 from the one booked in the previous year. However, it may not remain as low as $600 million in each of the remaining months of the year.




"We have estimated current account deficit for the year (FY19) at $16 billion," he added.

While presenting the amended Finance Bill 2018 in the National Assembly on Tuesday, Finance Minister Asad Umar said the full year's current account deficit would widen to $21 billion from last year's $18 billion, if his government would not take corrective measures through the mini-budget.

Citing the Pakistan Bureau of Statistics' latest data, Tariq said imports of almost all goods fell notably in terms of both value and volume, except for fuel oil due to the uptrend in crude oil prices in international markets.

"However, the import of oil in terms of volume also dropped notably in August," he noted.

He said imports may continue to remain moderately low due to a drop in machinery imports for the China-Pakistan Economic Corridor (CPEC).

Previously, Pakistan has seen an exorbitant increase in CPEC-related imports due to purchase of thermal power machinery from abroad. This caused a widening of the current account deficit.

The recent beginning of the second phase of CPEC developments, under which hydel power projects were being constructed, would nominally contribute to the deficit as 70-80% of the cost of projects would be borne in local currency, he said.

The central bank said exports improved 4% to $2.08 billion in August compared to $2 billion in July.

Worker remittances enhanced approximately 6% to $2.03 billion in August compared to $1.93 billion last month.

Also, the foreign direct investment (FDI) improved 26% to $160 million in August compared to $127 million in July.

Jul-Aug deficit

Cumulatively, in the first two months (July-August) of the current fiscal year, the current account deficit was recorded at $2.72 billion, which was 10% higher than $2.47 billion in the corresponding period last year, according to the central bank. 

Published in The Express Tribune, September 20th, 2018.

Like Business on Facebook, follow @TribuneBiz on Twitter to stay informed and join in the conversation.
COMMENTS
Comments are moderated and generally will be posted if they are on-topic and not abusive.
For more information, please see our Comments FAQ