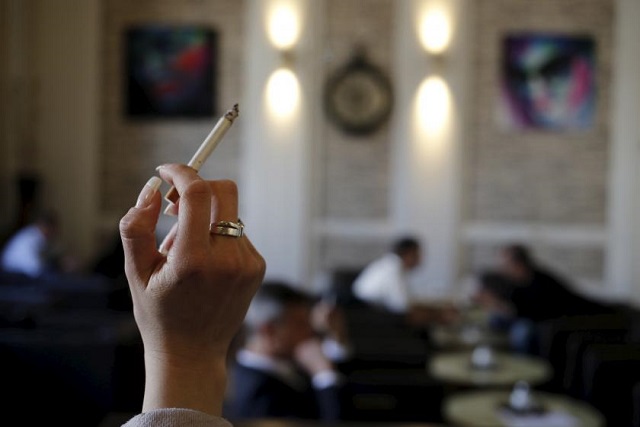 ---
ISLAMABAD: The National University of Sciences and Technology's (NUST) Islamabad campus has barred women from designated smoking areas, according to a notification issued by the institution.

A copy of the notification, which went viral on social media states that girls will be fined Rs1,000 if they access the smoking areas and their parents will be informed.

Honour is our national shame, not Mahira Khan

A Masters student at the institution says she is not surprised by the policy. "NUST has several sexist policies in place already."

She says the curfew for female students ends an hour before that of male students, girls' entry and exit from the hostels are logged while the same is not done for boys and parents of female students are called to verify if they stay out overnight.

"As a woman, it has been a humiliating ride to be treated like a criminal suspect or immature little child. Meanwhile, the boys get a free hand to come and go on free will."

"The rules, for them, only adorn the notice board," she says.

A final-year electrical engineering student says the campus has been a smoke-free campus for a while but is now setting up a few designated smoking areas. A map posted alongside the notification shows over 20 new smoking areas for male students.

He saw the notifications posted on department boards about two weeks ago when the semester began.

While not a smoker himself, he has several female friends who have called the policy sexist, questioning whether the administration thinks women and men have different lungs.

Taxes to be increased on cigarettes, cell phones

NUST designated smoking corners to discourage smoking in hostels, washrooms and secret corners by students.

Project Manager Smoke Free Islamabad Aftab Ahmed said after vacations the notification will be revised to end gender discrimination.

Moral policing and sexist dress codes are commonplace in Pakistan's educational institutions. Bahria University in Karachi drew attention in May for a notification directing male and female students to maintain 'six-inch' distance between each other and forbade "touching of males and females".

The university administration did not respond for comment.