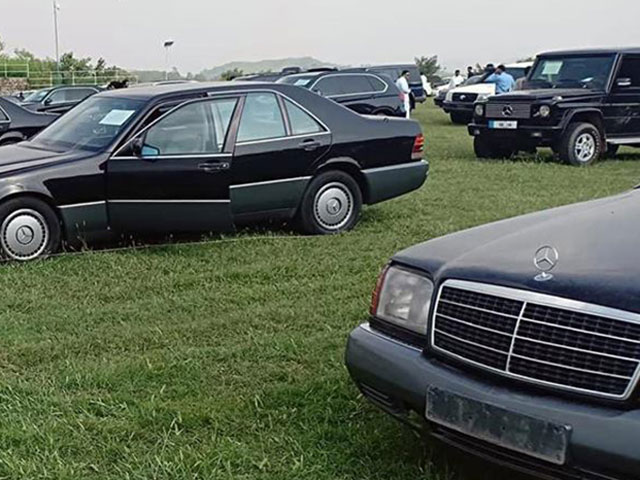 ---
ISLAMABAD: As part of the austerity drive initiated by Prime Minister Imran Khan, the Pakistan Tehreek-e-Insaf government on Monday sold 61 out of 102 luxurious cars including bulletproof vehicles parked at the Prime Minister House.

The auction, which was won by individual buyers, would fetch the national exchequer over Rs200 million. The government, however, was able to sell only seven of 27 bulletproof cars, and failed to attract buyers to buy two bombproof cars.

Talking to reporters, PM House administrator said that the bidding price includes import tax and that the buyer will only have to pay withholding tax. The official added that the cost of the vehicles which did not fetch any buyers will once again be calculated by the Federal Board of Revenues, hinting at a fresh auction of the remaining cars.

Four recent models of Mercedes, eight bulletproof BMWs, three 5000-CC SUVs and two 3000-CC SUVs of 2016 model were among the vehicles up for auction.

Govt commences auction of 102 PM House luxury cars

Moreover, 24 Mercedes Benz of 2016 model were also displayed for auction, while two of the cars were 4,000-CC bullet-proof vehicles.

Further, 40 Toyota cars which included a 2004 Lexus, a 2006 Lexus SUV and two 2004-model Land Cruisers were also up for auction.

Other vehicles that were auctioned included eight Suzuki cars, five Mitsubishi vehicles, nine Hondas and two jeeps.

People from different walks of life came from across the country participated in the auction and were seen taking selfies with the luxurious cars.

Meanwhile, the PTI said on Twitter that three 2015 model Land Cruisers V8 were sold at Rs 27.4 million, Rs 26.5 million and Rs 26.1 million respectively.

Earlier, the federal minister for information, broadcasting and national heritage Fawad Chaudhry told reporters that the first batch of cars were sold above their market price, saying money fetched from these cars will be deposited in the national exchequer.
COMMENTS (1)
Comments are moderated and generally will be posted if they are on-topic and not abusive.
For more information, please see our Comments FAQ