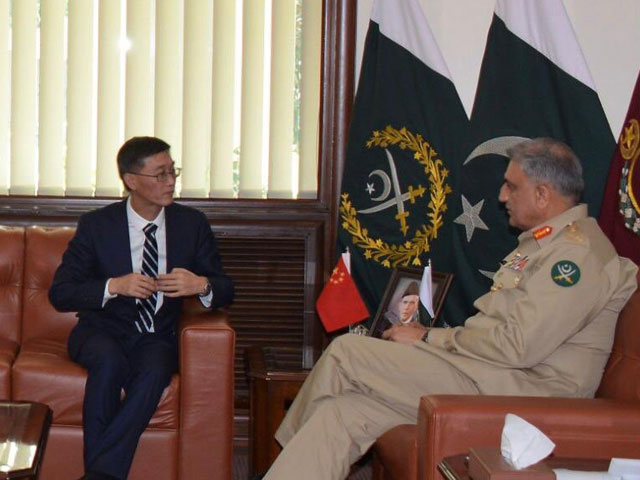 ---
ISLAMABAD : A day after a controversial interview of a key government adviser cast doubts over future of the China-Pakistan Economic Corridor (CPEC) project, army chief General Qamar Javed Bajwa assured the Chinese envoy that the CPEC is Pakistan's economic future and its security will not be compromised.

The assurance came during Gen Qamar's meeting with the Chinese ambassador, who visited the General Headquarters (GHQ) in Rawalpindi on Tuesday. According to the Inter-Services Public Relations (ISPR), the Chinese envoy discussed matters of mutual interest and regional security.

The ambassador appreciated the conduct of successful visit of the Chinese Foreign Minister Wang Yi to Pakistan, the military's media wing statement added.

Pakistan set to review CPEC: FT report

The meeting between the Chinese envoy and the army chief came against the backdrop of a recent report by Financial Times which quoted the Prime Minister's Adviser on Textile and Commerce Abdul Razzak Daud as saying that the newly formed federal government might revisit the CPEC projects.

His statement, however, drew immediate rebuttals from the Foreign Office as well as the Chinese Embassy. The adviser himself insisted that his statement was taken out of context.

Feeling the heat, the government said it is rather looking into the possibility of further enhancing and broadening scope of the multi-billion dollar rail and roads corridor that links China's southern region with the Arabian Sea through Gwadar port.

Pompeo assured US won't block Pakistan's bid to seek IMF bailout: Fawad Chaudhry

The former ruling party, the Pakistan Muslim League-Nawaz (PML-N) also strongly reacted to the adviser's alleged statement, insisting that without China's help Pakistan would not have been able to address its energy woes. It also criticised the manner in which the Chinese foreign minister was welcomed last week at the airport on his arrival in Pakistan.

Before the July 25 general election, the Pakistan Tehreek-e-Insaf (PTI) had promised to bring all CPEC projects before the Parliament and ensure transparency. Some critics say that Chinese companies were given undue advantage in the CPEC deals and that in future Pakistan could face serious debt issue.

However, the Chinese government has dismissed the criticism as a western propaganda and insisted that the CPEC will equally benefit Pakistan. The CPEC is a flagship programme of China's Belt and Road Initiative (BRI) that plans to connect Asia and Europe by reviving the old silk route.

West see it as a new form of colonialism, a charge China has strongly dismissed.