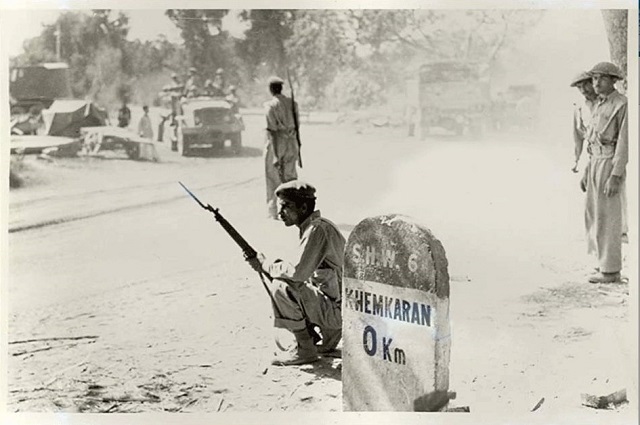 ---
As the nation marks Defence Day with tradition, zeal and fervour, The Express Tribune documents select anecdotes from the 1965 Pakistan-India War obtained over conversations with veterans and their kin.

Salim Ahmad Bokhari of Pakistan Air Force  

Javed Salim Bokhari vividly remembers the day when the Indian Air Force bombed Badin. "Only one bomb exploded. It sounded like a moving train to my ears," she said. The woman grew anxious about the safety of her husband Salim Ahmad Bokhari, a radar specialist, following the air raid.

"I was out of my wits," she said. Phone lines had been cut. There was no way to communicate with anyone stationed at the radar station. Two days later, a friend came bearing news of Bokhari's safety. Javed insisted the friend urge her husband to return home.

The then 26-year-old Bokhari returned home with a burnt hand and many war stories. He told his wife the Indian Air Force had left no stone unturned to level Badin.

Now a widow, Javed says her late husband is fondly remembered across units he served and his photos continue to adorn many PAF galleries. Bokhari retired as a wing commander.

'We love Pakistan': Top Twitter trend extols war heroes ahead of Defence Day 

Chaudhry Adil Khan of Pakistan Navy

Honorary Lieutenant (retd) Chaudhry Adil Khan served as a petty officer during the conflict. He was actively involved in the Dwarka Operation, a Pakistan navy offensive targetting the aforementioned Indian coastal town.

Operation Dwarka was the first naval operation of its kind in the 1965 war. Hostilities had remained restricted to air and land warfare earlier.

A Pakistan Navy flotilla was directed to proceed to Dwarka on September 5. It took the vessels till midnight to reach the Gujarat town.

"A total of seven ships comprised the flotilla.  I was on PNS Tipu Sultan," Khan said.

Over 200 nautical miles from Karachi, naval vessels bombarded targets across the temple town for ten minutes. Little resistance was encountered.

Khan, 28 at the time of the war, retired in 1992.

Khan's son, Faizan Adil joined the Navy to fulfill his father's wish.  "We grew up listening to war stories. From what I've been told, the family prayed he survived. Low spirits aren't really an option given how patriotic our family is."




Defence Day pictures that will leave you feeling patriotic

Syed Munir Hussain of Pakistan Rangers 

Syed Munir Hussain of Pakistan Rangers was posted at Ganda Singh border near Kasur. His battalion was one of the first to be targetted when the war began.

"When Indian troops fired, rangers personnel kept the enemy at bay," his younger brother Lieutenant Colonel (retd) Zia Tahir Hussain TI (M) recalled. He went on to explain that as a ranger, his brother's job entailed vigilance and protection of the nation's borders.

Hussain said he looked up to to his brother. My brother discharged his responsibilities effectively, he said.

Munir Hussain, 28 at the time of the war, retired in the 1980s.
COMMENTS
Comments are moderated and generally will be posted if they are on-topic and not abusive.
For more information, please see our Comments FAQ