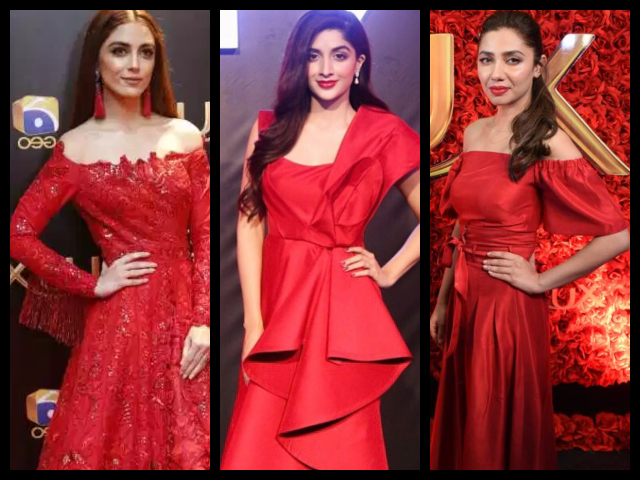 ---
KARACHI: In my opinion, there's no other colour as impactful, bold and daring as red. So, it's always exciting when celebrities turn up at events in a flame-coloured fabric. Although the camera loves it, A-listers don't always look their best wearing this unforgiving shade. Here are three celebrities who dared to garb in red and made an impression with their ensembles, be it for the right or wrong reasons.

Mawra Hocane




A few days ago, Mawra Hocane was spotted in a red Ali Xeeshan number. This piece confuses me; it had the potential to look amazing, but it didn't. The fabric seems to be raw silk, with a hint of sheen and I think that's where the issue lies. Had it been a little less stiff, it would have flown effortlessly.

It features dissimilar sleeves, with one just a little over the shoulder, giving it a somewhat padded effect. It also has some sort of 'structured' detailing which, frankly, does not work.

The bottom half of the dress is more pleasing to the eye, entailing ruffle detailing cut off at a flattering length. Nonetheless, it still seems unpolished and I just do not see the finesse due to which, this dress is a miss.

The Sammi star has her hair in waves with one side tucked behind her ear, which adds a nice finishing touch. Her makeup comprises nude smokey eyes, rosy cheeks and a bold red pout with matching nails. She accessorises with nothing but pearl drop earrings and white meshed kitty heels, which I'm not a fan of.

Maya Ali




Teefa in Trouble star Maya Ali stands donning a stunning off-shoulder ball gown at last year's Lux Style Awards. The dress is a very flattering shade of red, not too in-your-face. Embroidered all over, it consists of glistening sequin work and a cut-out neckline.

Maya keeps her makeup neutral with bronzed eyes and skin, and a nude lip completing her look. Her hair is straightened and features a middle parting - she has it pushed back so as to show off the neckline. I just wish she ditched those red tasseled earrings for diamond studded ones.

There were no more accessories and she didn't need any with those lovely long sleeves. Speaking of sleeves, I don't quite understand the fringe embellishing... what happened there?

Mahira Khan




Honestly, judging from this picture, it seems like Mahira Khan would have rather been somewhere else. But this may just be a bad picture... I'm not convinced though.

Let's talk about the dress - I really don't know what's going on here. The elasticated off shoulder, the random length of the sleeves and the dip hem, none of it works. Not to mention the looped tie-up at the front. This Tena Durrani attire does not do the Verna star any favours and is not flattering on her silhouette whatsoever.

Mahira styles the outfit with nude pumps and a quiffed pony tail. Her makeup does exude Hollywood glam with the winged liner and red lip however, there is nothing really glam about the overall look.

Mahira Khan or Ayesha Omar: Battle of the unconventional sari

From these three beauties, I think it's a clear win for Maya. She radiates effortless elegance and looks oh-so-confident. And, you know what we think really worked for her? The fact that she didn't go too matchy-matchy and skipped the red smile.

[poll id="1575"]

Have something to add to the story? Share it in the comments below.