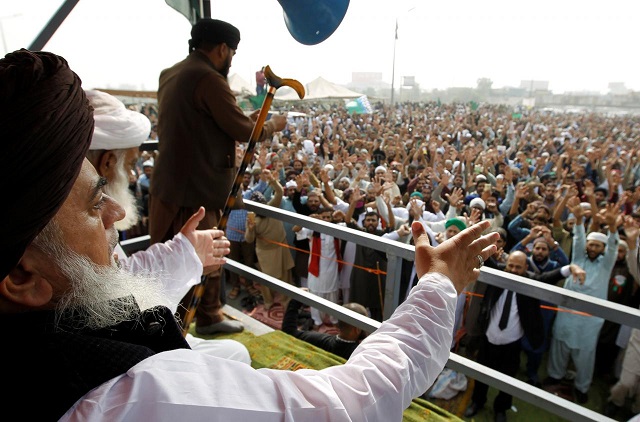 ---
LAHORE: In protest against Dutch Freedom Party leader Geert Wilders' announcement he will hold a competition of blasphemous caricatures, Tehreek-e-Labbaik Pakistan (TLP) on Wednesday started its march from Lahore to Islamabad.

Earlier on Wednesday, TLP leaders Muhammad Afzal Qadri, Allama Waheed Noor and Dr Shafique Amini demanded the government to expel Netherlands ambassador to Pakistan, during a meeting with Federal Minister for Religious Affairs Noorul Haq Qadri and Punjab Law Minister Raja Basharat.

The dialogue between the government and TLP leadership failed to reach any agreement as the government party sought time to make any decision in this regard. The federal minister conveyed Prime Minister Imran Khan's message to TLP leaders and tried to calm them on the issue but failed to convince leaders of the religio-political party.

TLP announces another march on Islamabad

Later, a large number of TLP workers gathered outside Data Darbar to stage a protest rally that is marching towards Islamabad via Grand Trunk (GT) Road. Meanwhile, the TLP leadership has asked its workers to take to the streets until the government ends diplomatic ties with the Netherlands or the Dutch government stops exhibition of blasphemous caricatures.

The TLP leaders also demanded the government to take up the issue with the US government as a judge in the proposed competition is an American national.

TLP calls off agitation as government 'surrenders'

Earlier in November 2017, the religio-political party had staged a sit-in at Faizabad Interchange for over two weeks and disrupted routine life in twin cities over an attempt to amend the clause related to finality of the Prophethood from the oath of public representatives. However, later the minister for religious affairs had to step down from his office and the government rectified the issue through an Act of Parliament.

The blasphemous cartoon contest is scheduled for November. Dutch Prime Minister Mark Rutte has already distanced his government from the controversial contest. He said neither this competition is being organised by the Dutch government nor Wilders is a member of the Dutch government.