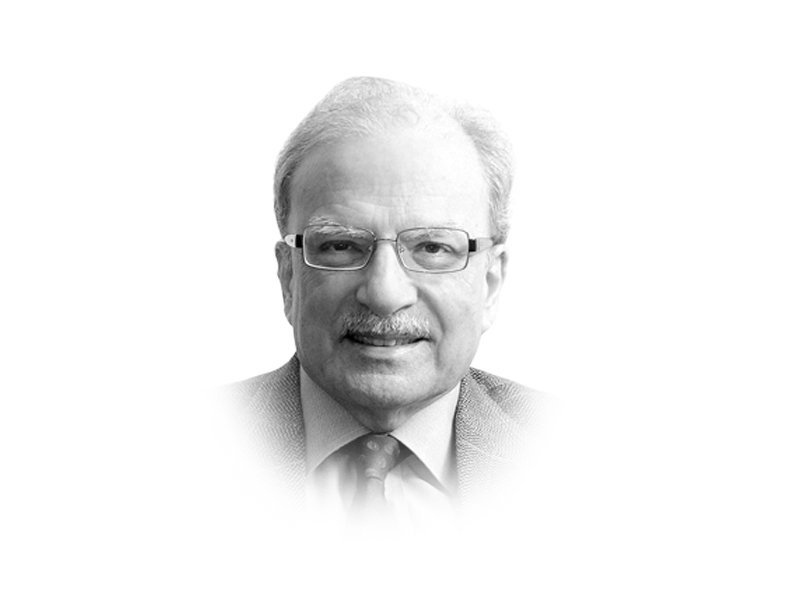 ---
The possible easing of tensions between Pakistan and India will have to occur in a difficult environment. To begin with are the changes Beijing is making in the way it handles its economy. It no longer has low-priced labour and for demographic reasons the Western markets to which most of its products went are not expanding as rapidly as they did in the past. It must look for other ways and one of them is to develop an industrial base that try and become the leader in the new industrial production system that is taking shape. This relies on linking production enterprises through supply chains that embrace the entire world, developed and emerging. But some of this is seen as a challenge by Washington under Trump.

It took a few months after Trump's inaugural address to take on China. Initially he tried a charm offensive and invited "my friend" President Xi Jinping to visit him at Mar a Largo, the president's Florida resort. His focus at that point was on North Korea. Trump had concluded that he needed China's help to push back the North Koreans from their nuclear ambitions. He took the unusual step of holding a summit with the Korean leader in Singapore at which he believed he had secured President Kim's agreement to denuclearise. Trump began to dream of the Nobel Peace Prize. But as most experts had predicted, moving North Korea from its nuclear ambitions would not be easy: the expected help from China did not materialise and Trump began to see China as a convenient political foil. He turned on China, initially using tariffs on trade as his weapon of choice. Since the spring of 2018, the United States and China have each put tariffs on $34 billion worth of goods, with $16 billion slated to take effect in late August. The trade war has sparked anxiety among some US industries, in particular among those in which China has become a major competitor. On August 23, China and the United States sat down again to resolve their differences. How would all this affect South Asia?

The consequences could be grave if the conflict between Washington and Beijing sharpens. One of the more serious ones would be to split the South Asian subcontinent down the middle. Already, China has a large presence in Pakistan. It is not only investing more than $60 billion in building the China-Pakistan Economic Corridor, with between $8 and $10 billion coming in every year. Beijing is also aiding Pakistan in several different ways. It is providing emergency financial assistance to help Islamabad handle its fairly-severe balance-of-payments crisis.

But Pakistan is not the only South Asian country China hopes to have on its side. It is actively courting Bangladesh to join the BRI initiative. On the opposite side is the United States' interest in India whose association is being sought by both Washington and Tokyo to partner them in what is called the Indo-Pacific alliance. If these competing interests materialise, South Asia could become the field where the new 'great game' between the two rival powers would be played. That is obviously not in the region's larger interest.

South Asia remains the only world region that does not have a working arrangement among its nations. For decades South Asian countries have worked against one another rather than with one another. To put the blame for the discord on the lingering Kashmir problem is too easy an explanation. Overall suspicion has blocked the countries to take advantage of the obvious links between their economies to better the lives of their citizens. Pakistan, for instance, has a one-sided transit arrangement with Afghanistan which allows the latter to use its road infrastructure to export to India. But India cannot use the same facility for trading with Afghanistan. It is hard to understand the reason behind this discrimination.

India, by far the largest economy of the region, has to give more to its neighbours than it gets from them. This is the basic principle of exchange on which all successful regional trade agreements are based. If there is one large economy in the arrangement, it is the one that must bend more. Several years ago, I was engaged to do a study for the United States' AID to determine why the South Asia Free Trade Area was not working. I visited most member countries before meeting Dr Manmohan Singh who was then India's prime minister. He asked me how India's neighbour felt about his country. "Not well," I responded. "The only country that is not really unhappy with you is Pakistan and the reason for that is there is little bilateral trade." India is not an easy country to trade with. He gave me the reason for that. Although international commerce is a central subject in the Indian Constitution, the states that neighbour the world outside can do a lot to hinder trade. Many do, by using what in trade parlance are called 'non-trade barriers' or NTBs. India is one of the world's most aggressive users of this particular trade-retarding device. This is the main reason why Pakistan has not granted India the 'most-favoured nation' status.

Soon after being sworn in, Imran Khan and Shah Mahmoud Qureshi, as Pakistan's prime minister and foreign minister respectively, have indicated their interest in improving relations with India. Both mentioned trade as an important area for discussions. Any bilateral understanding has to be undertaken in the context of world developments. Islamabad and New Delhi will have to be mindful that the impending China-US trade war will provide the context in which they deliberate.



Published in The Express Tribune, August 27th, 2018.

Like Opinion & Editorial on Facebook, follow @ETOpEd on Twitter to receive all updates on all our daily pieces.

 
COMMENTS (6)
Comments are moderated and generally will be posted if they are on-topic and not abusive.
For more information, please see our Comments FAQ