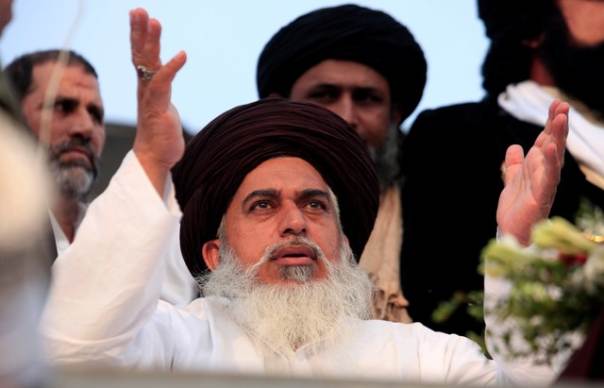 ---
ISLAMABAD: Tehreek-e-Labbaik Pakistan (TLP) has announced to march on the federal capital on Wednesday, with the demand that Pakistan sever diplomatic ties with the Netherlands over a controversial cartoon contest by a Dutch politician.

Addressing a press conference in Lahore on Sunday, TLP leaders -including Khadim Rizvi - said they would stay on the roads until either the cartoon contest is stopped or Pakistan expel the Dutch ambassador and calls back its envoy from the Netherlands.

"Call back your ambassador and expel the Dutch ambassador from Pakistan," Rizvi asked the government.

He said mere condemnation was not enough at this stage. He said the march would start from Data Darbar on August 29 and would stay in Islamabad until their demands are met.

TLP calls off agitation as government 'surrenders'

"We will reach Islamabad and then decide the next plan of action. We can be martyred or arrested, but we will not return until either the cartoon contest is stopped or the Dutch envoy is expelled," said Peer Afzal Qadri.

He said their march would be peaceful and the government would be responsible for the consequences if it tried to stop them by force.

The TLP says it will be a 'decisive' march. Qadri also urged the Muslim world to play their role in stopping the controversial cartoon contest.

"Condemnation by the government is not enough. The solution is the announcement of jihad," proclaimed Rizvi.

The TLP had held a protest sit-in and blocked the Faizabad interchange in Islamabad for almost three weeks in November 2017 over the issue of Khatm-e-Nabuwat.

The 21-day-long sit-in by the TLP at Islamabad's Faizabad Interchange had forced the government to accept its demand to sack law minister Zahid Hamid, who, the protestor accused, was responsible for a controversial change in the oath of lawmakers avowing finality of prophet-hood.

The sit-in ended after the army brokered a deal between the clerics and federal government in the wake of a botched up government operation to remove the sit-in.