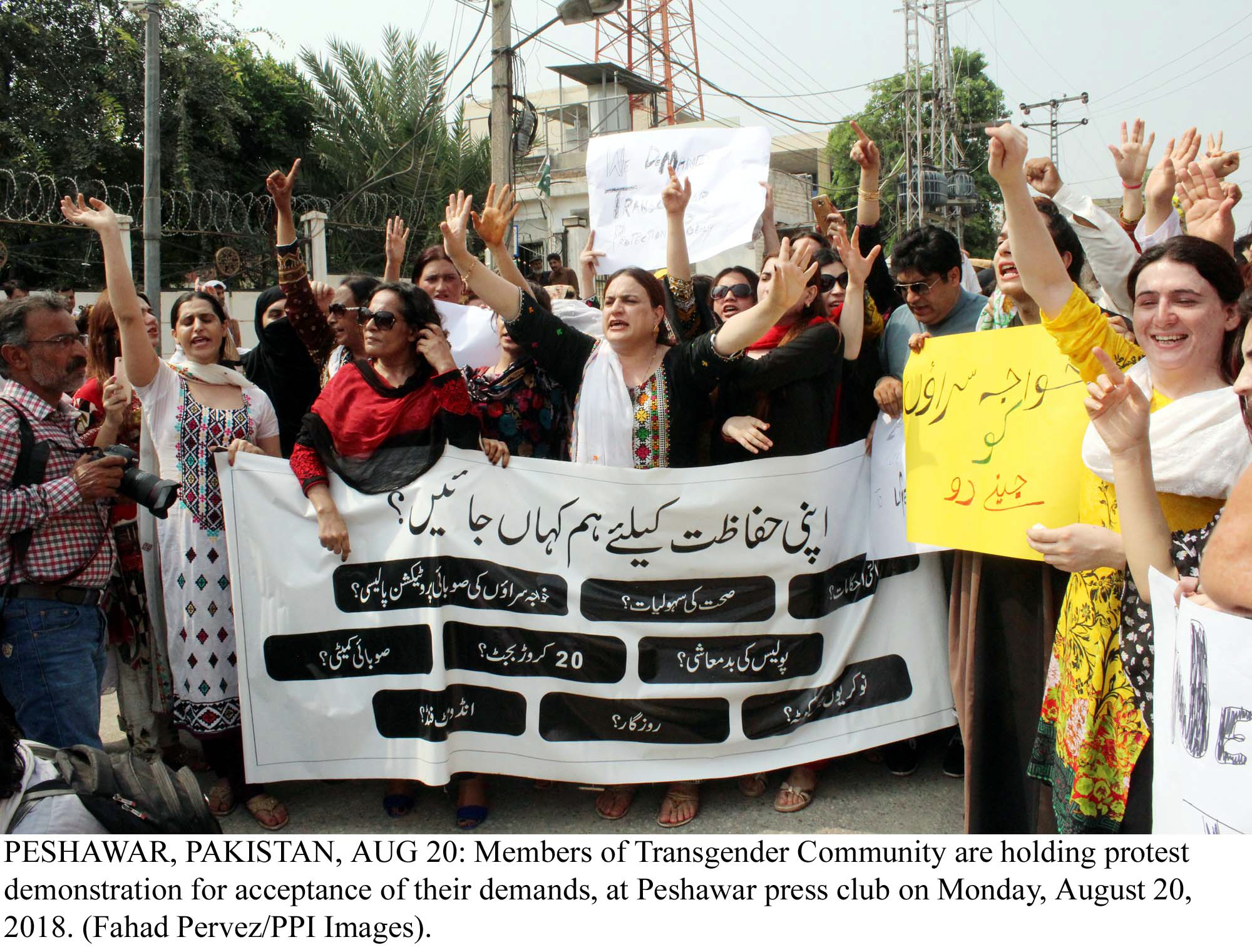 ---
PESHAWAR: Two days after the brutal murder of a person who was a transgender in Peshawar, members of the transgender community protested on Monday, demanding security and their rights from the newly elected provincial government.

The Alliance for Transgender and Inter-sex Community (TransAction) Alliance staged a day-long sit-in outside the Peshawar Press Club on Monday.

They claimed that incidents of violence against them and hate crimes perpetrated by the police administration in various districts were on the rise.

Addressing the protest, TransAction Alliance Khyber-Pakhtunkhwa (K-P) President Farzana Jan said that their community was under attack from different quarters with a loud and clear message: people who are transgender will not tolerate atrocities perpetrated against them.

She said that they have rights and that they will fight for them until the government delivers. She also urged the Chief Justice of Pakistan to visit Peshawar, hear their concerns and take stern action against the police personnel who violate their fundamental rights, abuse their power and act beyond their jurisdiction.

Jan lamented that the Swat police was forcing people who are transgender to leave their homes.

"The Swat police are forcing members of the transgender community to vacate the area. This is illegal and unconstitutional," Jan contended.

"The constitution guarantees that all citizens are free to move in and out of different areas of the country without any restriction," she argued.

Qamar Naseem a transgender rights activist and a member of the National Taskforce and the CM's Committee on Rights of Transgender Persons said, "The human rights violations perpetrated against people who are transgender in K-P is the result of highly machismo, conservative and transphobic culture which ostracizes and stigmatizes transgender people, posing a serious threat to their health, security, life expectancy and employment prospects."

"This community is vulnerable without legal protections, they are at a greater risk of violence, sexual and substance abuse. Most have little access to health services. Without recognition, many cases of violence and murder go undocumented," he added.

Arzu Khan, the general secretary of TransAction Alliance said, "For the past decade, we have been demanding legitimate rights guaranteed by the Constitution and appropriate legislation safeguarding that in Pakistan. Today we are protesting peacefully but if the government fails to listen to the transgender community across K-P, we will take this agitation to the roads."

Pakhtunkhwa Civil Society Network Coordinator Taimur Kamal said that such is the situation that even if a person who is a transgender manages to find a job, it does not last because they face harassment and ill-treatment at work."

Published in The Express Tribune, August 21st, 2018.