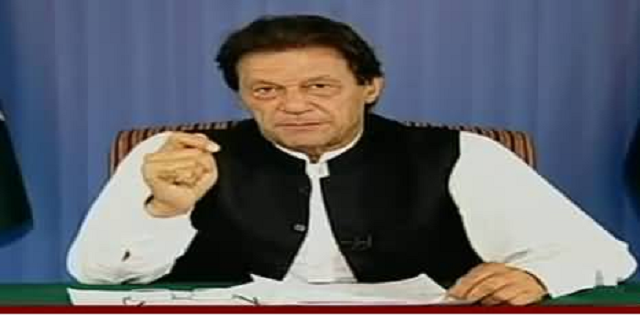 ---
In his maiden speech aired Sunday night, Prime Minister Imran Khan made tall promises but sidestepped on certain crucial points. The promises made by the premier in his populist speech gave a glimmer of hope to the people but intentionally vague commitments left others wondering regarding the priorities of the new government.

Mixed reaction on social media to PM Imran's inaugural address

Tracking promises

The Express Tribune is also tracking the first 100 days of the PM's journey.

Here is a list of some of the commitments the prime minister made to the people of Pakistan:

Promise: Court cases to be resolved within a year. Implementation of judicial reforms also in queue.

Promise: Widowed/divorced women to get priority in court cases. PM Imran said he had coordinated with the chief justice of Pakistan to ensure that all such women are given importance.

Promise: Punjab police to be reformed.

Promise: Curbing child abuse will be top priority.

Promise:  Government school sector to be reformed.

Promise: Will not take money or aid from international bodies or other countries.

Promise: No political interferrence in civil service. Appointments will be made on merit.

Promise: A right to services department will be formed which will cater to the needs of civilians. The department will be rewarded if functioning well, penalised if not.

Promise: There will be elections for Nazims of union councils in both Khyber Pakhtunkhwa (K-P) and Punjab where PTI has formed a government. All Nazims in the two provinces will be elected to the position.

Promise: Five million housing units will be built. Employment will increase as these housing schemes will require labour and human resource.

Promise: Will implement "one window operation" which will provide all residents and industrialists solutions under one roof.

Promise: Skill-based education to be introduced in education sector. The Pakistan Peoples Party already proposed this in the last democratic term and have already began implementation in Sindh.

Promise: The youth will be provided interest-free loans.

Promise: Will renovate sports grounds and recreational spaces for activities.

Promise: Will plant billions of trees in cities.

Imran Khan hints at 'massive changes' in Pakistan cricket

Promise: Four new tourist resorts to be opened each year to promote and push tourism.

Promise: Will solve issues related to Balochistan.

Promise: A new province to be created in south Punjab.

Promise: Karachi's transport infrastructure to be improved. Sindh police to be transformed, and a desalination plant will be built.

Promise: I will not be part of any business venture throughout my tenure.

While the speech exceeded expectations, there was no mention of religious minorities, marginalised communities, attacks on women, religious intolerance. Also, no mention of occupied Kashmir and the prime minister also did not mention religious tolerance.




COMMENTS (2)
Comments are moderated and generally will be posted if they are on-topic and not abusive.
For more information, please see our Comments FAQ