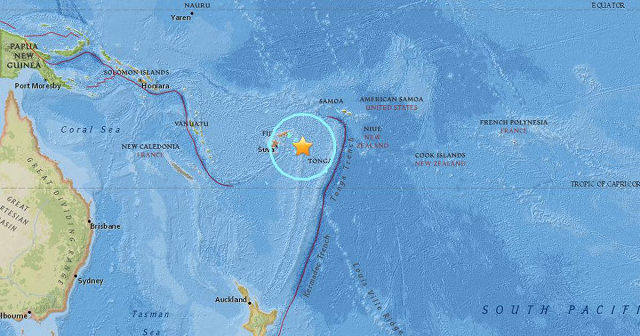 ---
A massive quake of magnitude 8.2 struck in the Pacific Ocean close to Fiji and Tonga on Sunday but it was so deep that it did not cause any damage, authorities in Fiji said.

The US Tsunami Warning Center also said the quake was too deep to cause a tsunami.

Four dead, one missing as cyclone causes floods in Fiji

The quake's depth at 347.7 miles (560 km) would have dampened the shaking at the surface.

The director of Fiji's Mineral Resources Department, which runs the country's seismology unit, told Reuters on Sunday the earthquake was widely felt, but there were no reports of damage.

"We are monitoring the situation and some places felt it, but it was a very deep earthquake," Director Apete Soro said by telephone.

The quake was initially reported as a magnitude 8.0 and then upgraded to 8.2, a magnitude that could cause tremendous damage had it not been so deep.

"I would not expect any damage. People will feel it but it's so deep that I would not expect any damage," USGS geophysicist Jana Pursley said by telephone.

After Indonesian earthquake terror, hundreds trek down from volcano

The epicenter was located 167 miles (270 km) east of Levuka in Fiji and 275 miles (443 km) west of Neiafu in Tonga.

Hotel staff in Neiafu told Reuters by telephone that they did feel the earthquake, but it did not cause any damage.

The area is located on the earthquake-prone Ring of Fire.
COMMENTS
Comments are moderated and generally will be posted if they are on-topic and not abusive.
For more information, please see our Comments FAQ