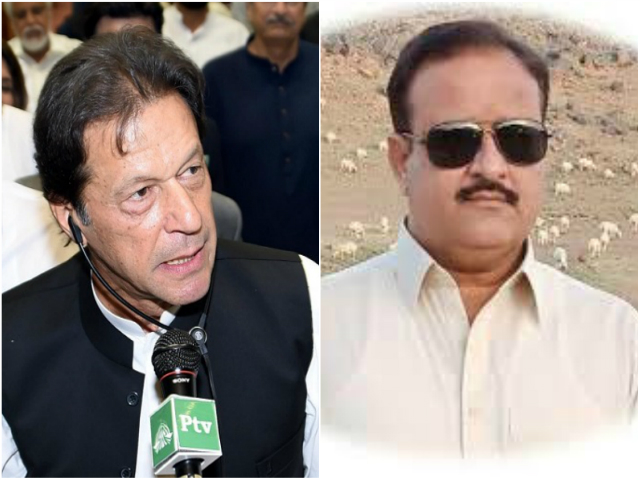 ---
LAHORE : Dismissing objections over Sardar Usman Buzdar's nomination as new chief minister of Punjab, newly-elected Prime Minister Imran Khan on Saturday insisted upon his party's lawmakers to implicitly trust his judgment.

"Trust my judgment on Sardar Usman Buzdar's nomination as Punjab chief minister. He will put into practice the vision of New Pakistan," he said.

Speaking with members of PTI's Punjab parliamentary party from Islamabad by telephone, Imran told the MPAs that the decision was in the best interests of Punjab.

Urging all to work in a unified manner and serve the people, the prime minister said that it was vital for Punjab's prosperity.

"We will change the destiny of the province. We will not disappoint the people of Punjab. We will usher in an era of prosperity and development," he added.

Highlighting Buzdar's background, he said that the nominee came from one of the most underdeveloped areas of Punjab – the tribal area of Dera Ghazi Khan division.

Dark horse gallops ahead of favorites

This would be the first time that Punjab would have a chief minister from such a neglected area.

"This is an area without electricity, (running) water or a (qualified) doctor for over 200,000 people. As chief minister, he (Buzdar) understands problems of the people of neglected areas and will be able to ensure their uplift," the prime minister said.

Earlier, Imran tweeted: "I want to make it clear I stand by our nominee Usman Buzdar for CM Punjab. I have done my due diligence over the past two weeks and have found him to be an honest man. He has integrity and stands by my vision and ideology of Naya Pakistan."

Talking to the media after the parliamentary party's meeting, nominated Punjab Governor Chaudhry Muhammad Sarwar said party members accepted Imran's decision and stood firm with Buzdar.

He said the country was facing major problems which no individual could solve on their own.

Everyone, he said, had to pitch in to solve key national problems.

He said that joint efforts by all team players would bring a positive change in the province and enable the party to fulfill all of its promises.

The meeting was attended, among others, by Punjab Assembly Speaker and PML-Q leader Chaudhry Pervaiz Elahi, Chaudhary Sarwar, president of PTI's Central Punjab chapter and MPA Abdul Aleem Khan, MPA Dr Yasmin Rashid and other lawmakers.



Later, Abdul Aleem Khan refuted allegations leveled against Buzdar in the media. It has been alleged that the PTI nominated chief minister was implicated in a murder besides being pursued by NAB.

"These are just allegations based on rumours and nothing else. They are circulating in the media but no one is backing these allegations with (irrefutable) proofs. Buzdar has already issued a statement in which he categorically denied all allegations," he said.

There was no court case pending against Buzdar, he insisted.

When asked if such an inexperienced individual be able to run a province, he said that people had voted for PTI and Imran Khan .

He said that the Prime Minister had personally selected Usman Buzdar and the party had full confidence in his judgment.

"He (Buzdar) has the party's full support. He will win the election for the CM with a wide margin," he maintained.

Earlier the nomination of Sardar Usman Buzdar has triggered a controversy on the electronic and social media.

Buzdar, who remained affiliated with the PML-Q and PML-N in the recent past, had joined the PTI just days before the July 25 general elections. His family heads the Buzdar tribe and his father elected as lawmaker more than once in the past.

Media reports claimed that Buzdar and his father were found guilty in a sextuple murder case during the previous elections and that they had paid Rs7.5 million as blood money (Diat) to settle the feud.

Senior journalists and columnists took to popular micro-blogging site Twitter to criticise the PTI for nominating Buzdar for the office of Punjab chief minister.