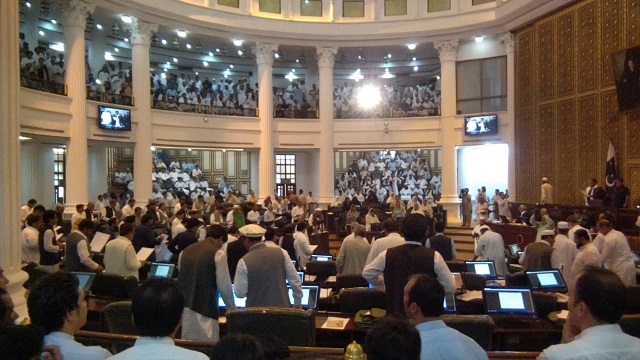 ---
QUETTA/ PESHAWAR/ KARACHI: The newly-elected members of provincial assemblies took the oath on Monday as the provincial assemblies of Sindh, Khyber Pakhtunkhwa (K-P) and Balochistan held their inaugural sessions for the new five-year term.

In Peshawar, the inaugural session of the K-P commenced with Pakistan Muslim League-Nawaz (PML-N) leader Sardar Aurangzeb Nalota presiding over the oath. Nalota was appointed by governor K-P to fill in for outgoing speaker Asad Qaiser who took the oath in the National Assembly.

MPAs to take oath in maiden Sindh assembly session today

Muttahida Majlis-e-Amal's Hidayatur Rehman of PK-1 (Chitral) was the first member to sign the roll of members to note his attendance as an MPA of the K-P assembly.

After an uncalled for delay, the first session of the 11th Balochistan Assembly convened under the leadership of Governor Mohammad Khan Achakzai. 62 of 65 members took oath as MPAs. Speaker Rahila Hameed Khan Durrani will administer the oath to the newly-elected members.

Jam Kamal Khan and Sardar Yar Muhammad Rind also took the oath. Sardar Saleh Muhammad Bhootani took the oath for the Balochistan Assembly for the seventh time, Nawabzada Tariq Magsi and Jam Muhammad Jamali took their fifth oath.

After taking the oaths, the MPAs signed their affidavits. The session also had a recitation of the Holy Quran to commemorate those who have been martyred from terrorist incidents. Seventh-time elect, Sanaullah Zahri, did not show up for the oath-taking ceremony.

The election for the speaker and deputy speaker of the provincial assembly will be held on August 16, Durrani announced during the session. The next session of the assembly will be held on the same date.

New entrants into the Sindh Assembly also took the oath with the beginning of the new parliamentary year. Speaker Agha Siraj Durrani administered the oath to 165 members.

The three seats are vacant as official notification of the victory of two candidates was withheld due to pending petitions in courts, and one MPA-elect has passed away. PTI's governor-elect Imran Ismail also took the oath. Imprisoned winners, Sharjeel Memon and Javed Hanif, were brought from jail to attend the oath taking.

BAP all set to take over the reins in Balochistan

Speaker, deputy speaker election will take place on Wednesday (August 15) and all parliamentary parties are collecting nomination papers for their candidates.

Briefing about the inaugural session, Sindh Assembly Secretary GM Umer Farooq said Durrani, who was elected as the speaker by the last assembly, still continues his position as the custodian of the house. He will himself also take oath as he has been elected again to the House.