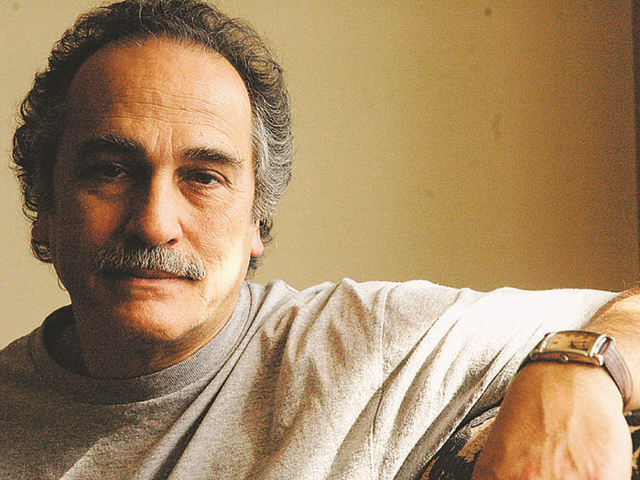 ---
KARACHI:

Jamil Dehlavi is a renowned name in world cinema. Known for his most popular film Jinnah, the film-maker, who is of Pakistani and French descent, has a unique filmography, which largely deals with issues plaguing a modern Islamic society at the same time, often serving as a vantage point for the West to look into South Asian socio-political dynamics.

Pakistan's Oscars committee calls for submissions

After decades of contribution to cinema and having earned recognition all over the world, Dehlavi's selected works will now be showcased by the British Film Institute (BFI) in London. The three-day event titled Between the Sacred and the Profane: The Cinema of Jamil Dehlavi, to be taken place from August 10 - August 12, will include the screenings of The Blood of Hussain (1980), Born of Fire (1987), Immaculate Conception (1992) and Jinnah (1998). Further, the schedule will also hold a screening of his short films, and a talk by the director himself. Another session will give stage to the retrospective's co-curator Dr Ali Nobil Ahmed as he explores the cultural, artistic and political angles to Dehlavi's work.




In an email interview with The Express Tribune, the acclaimed director talked about the upcoming retrospective, his view of Pakistani film industry and the possible re-release of Jinnah for the local audience. "It's always gratifying to be recognized, especially by one of the world's leading film institutions," he said. On how he thinks the diverse audience will connect to the majorly South Asian concepts of religion, social dynamics and issues that plague it, he said, "Some will be intrigued, some will be surprised, some from the diasporic community living in the UK will be reminded. I hope that all will be entertained and come away feeling that they have 'sensed' another culture rather than analysed it to death."

One also has to wonder how the retrospective might benefit the South Asian expat film-makers' community, and more importantly, help in the image-building of Pakistani film industry. The film-maker said, "I don't mean to sound self-important but my films have been shown all over the world and have won many awards at international film festivals. I hope that this retrospective will help to build on the growing importance of the Pakistani film community who are demanding to be taken seriously on the world stage. I am confident that this will happen."




Dehlavi's films largely draw upon the Indian subcontinent and Islamic history. It uses them as examples to reflect on the modern Islamic society's issues. "For me, film-making is a creative endeavour. I am not out to put across a line of thinking or an ideology. But I am a Muslim and I distinguish between Islam as a faith and Muslim culture which has many more aspects to it - music, poetry, philosophy, architecture, science, art and so on which stretches across many countries from the Maghreb in the West to Indonesia in the East. It's a rich, complex and exciting culture infused with stories that entertain, educate and inspire. I am captured by these stories and they are part of my make-up," he said, when asked if that was a deliberate mode of operation and an intentional thematic connection in his films. "So I do not think of my films as discourses. They are vehicles for the audience to imagine issues and realms that make up our world. Much depends on the ability for viewers to discover this for themselves. For me that is the nature of creative work."

The film-maker also discussed his multiple identities. One may argue Dehlavi is considered a Pakistan film-maker in the international community, while in Pakistan, he is viewed as one of the foreign breed of filmmakers. He agreed to some extent, sharing that his father was in the Pakistan Foreign Service and "was of the generation who were the founding fathers of Pakistan" and his mother was French. "So, in fact, I come from a bi-racial background. I have lived a part of my life overseas and studied abroad. To an extent some people here may view me as one of a 'foreign breed of film makers'. This is inevitable," he said. "However, I have been a Pakistani as long as this country has existed and I have always thought of myself as a Pakistani film-maker. At the same time, I have multiple identities and my work straddles both the worlds in which I have lived. I understand Pakistan and its multi-layered complexities which are reflected in my own sense of self, but I also understand the West and my artistic work, I hope, reflects this."




Dehlavi sees this as positive, especially in the globalised world we live in today. "I am not alone in enjoying this status. There are other internationally respected Pakistani artists, writers, poets, musicians and filmmakers who are a part of the diaspora. They will also have this dual identity and may be perceived by some as foreign and yet Pakistani at the same time. It's the nature of the pluralistic world we live in which demands a more cosmopolitan world view."

On the same line of thought, it's particularly interesting how Dehlavi's films touch upon Pakistani society but the very same society is largely unfamiliar with his work, with the exception of Jinnah. The director noted how his film The Blood of Hussain was banned in Pakistan. "And others have been unable to pass our strict censor board. However, you might be surprised how many Pakistanis have seen them through unconventional channels. I hope any possible unfamiliarity you speak of will become less evident, especially with the BFI retrospective reminding film goers that there are these films out there which are worth visiting or re-visiting."




He continued, "Incidentally, I should tell you that I have written the screenplay for a thriller in Urdu for the local market which I intend to shoot in Karachi soon. I am in the process of raising funds to make it. Perhaps some of your readers may be interested in contributing."

While the bird's eye-view of Pakistani cinema may look like the audience demands dated rom-coms and comedies, Dehlavi disagreed. "I strongly believe that the cinema-going audience in Pakistan is astute and demanding and the rom-coms and comedies will become less attractive. The young in Pakistan are also part of the globalised world which I have already spoken of and they will be wanting more from the artists of Pakistan not only to entertain them but to represent them and to challenge them. This is the new reality."

Lastly, the director spoke of his most famed work Jinnah. He acquired its rights a few years ago and the film was supposed to be re-released in 2015 but it never came to be. With this shift in the political landscape of Pakistan, now is perhaps the time to recollect Jinnah's ideology in people's minds. The film-maker agreed. "The Jinnah film has had a chequered history for reasons too complex to deal with here. But after a protracted legal battle I have acquired the rights and so, as you suggest, the time has come for us in our country to review the story of its founding father."




Drawing boundaries: Exploring Partition through art

He continued. "Jinnah was a secularist and understood the value of cosmopolitan ethics, he underlined the importance of upholding the law and the constitution. He was beyond reproach, an honest and exemplary leader who upheld democratic processes and above all respected different faiths, traditions and cultures. I feel that if the values he stood for could be taught as part of civic education in Pakistan, then the film and its making will have vindicated itself. I would like to see it enter into the educational system as part of Pakistan's self-awareness. I began this process in 2015 when the film was re-mastered and shown to 4,500 students in cinemas across Karachi. This new version was subsequently re-released on Blu-ray by Eureka Classics in the UK and is now widely available. As far as a commercial release in cinemas, that's more complicated as it's in the hands of distributors and exhibitors who generally have less altruistic agendas."

Have something to add to the story? Share in the comments below.