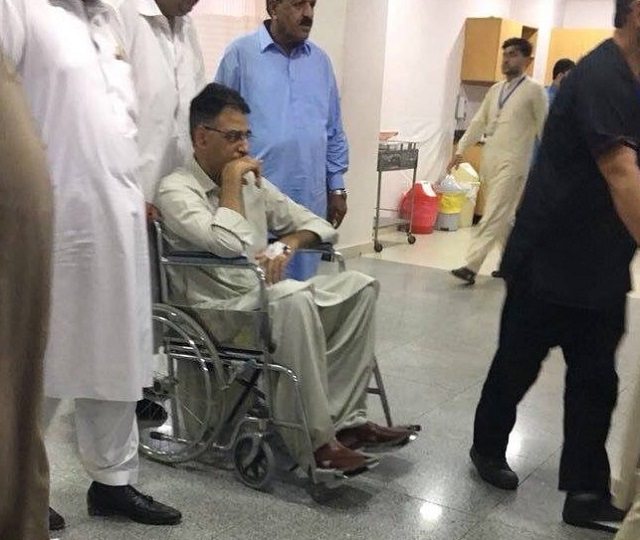 ---
ISLAMABAD: Pakistan Tehreek-e-Insaf (PTI) leader Asad Umar on Sunday sustained injuries after he fell off a horse while climbing on top near the federal capital.

Initial reports revealed that Umar's fall resulted in injuries to his back and was shifted to a nearby hospital immediately. Umar already suffers from back issues. He was in Budana, a village near Islamabad, to thank his supporters for the election win.

Shots fired at Asad Umar's corner meeting


Upcoming Finance Minister #AsadUmar injured during horse riding but now he is safe.

He got treatment at local hospital not from London. Tabdeeli Started 👍 pic.twitter.com/FQujUfZyHi

— Muhammad Sohail Anjum (@SohailWaliPK) August 5, 2018


The supporters, who arranged the horse, had gathered to assist Umar on to the saddle when he lost his balance and fell.


#AsadUmar leaves for his house while thanking the amazing people who showed up at the hospital to check up on him. We're the BEST nation when it comes to being there for one another. Glad to see the political future of this "Zinda-dil qaum" in safe hands, Insha Allah Taala. :) pic.twitter.com/5RGwjMBItB

— Maleeha Hashmey (@MaleehaHashmey) August 5, 2018


In July, police were investigating after unidentified people fired aerial shots near a corner meeting of the PTI leader Asad Umar in Sector G-11.

Police said Umar was addressing the gathering in Sector G-11/2 when a car rally by PML-N supporters consisting of at least nine vehicles passed by the PTI gathering where around 200 PTI supporters were gathered.

A minute later, a shot was fired in the air just outside the PTI gathering, due to which Umar had to end his speech and leave the venue. A few seconds later four more shots were fired in the air in a nearby street.