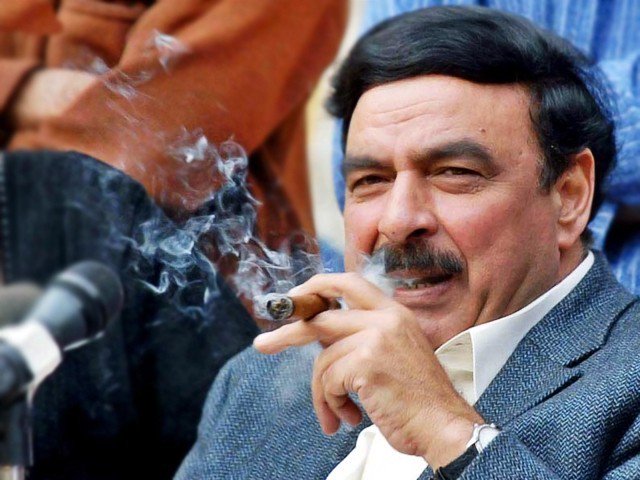 ---
LAHORE: Awami Muslim League (AML) President Sheikh Rashid Ahmad said the foundation of a new Pakistan had been laid by the victory of Pakistan Tehreek-e-Insaf (PTI) Chairman Imran Khan.

He was speaking at a press conference held at a local hotel on Thursday.

Sheikh Rasheed demands 'judicial martial law' in the country

He said that general election results had ended the tenure of political "plunderers". He hailed the Pakistan Election of Commission (ECP) and Pakistan Army for holding successful, peaceful and transparent elections.

"I have achieved my aim and I am not after any ministry. My objective to send thieves and robbers behind bars has been completed," he said. He added that he has full confidence in the leadership of Imran Khan. He added the PTI chief's opponents wanted him to be disqualified, but the fact is that he won the election.

"Imran has set up a political nursery for the country and it is a blessing that the culture of VIP protocol has been eliminated from Pakistan." The AML leader said that those who suffered defeat were the ones crying over rigging.

He claimed to possess undeniable proofs of corruption against former prime minister Shahid Khaqan Abbasi in the LNG scandal. "We are here to start fresh politics in the new Pakistan," he added.

SC dismisses Sheikh Rashid petition against NA-60 verdict

He criticised the PML-N leadership, including Nawaz Sharif, Shehbaz Sharif and Maryam Nawaz. Replying to a question, he said that he did not go to Bani Gala for any kind of ministry. "I have enjoyed eight ministries in the past and have no for wealth, fame or ministry.

The AML chief said it would be unfortunate for Pakistan if looters took the benefit of a National Reconciliation Ordinance due to the pressure of external forces. "Pakistani people are well aware now and liked the change they say in the current elections."

Published in The Express Tribune, August 3rd, 2018.
COMMENTS
Comments are moderated and generally will be posted if they are on-topic and not abusive.
For more information, please see our Comments FAQ