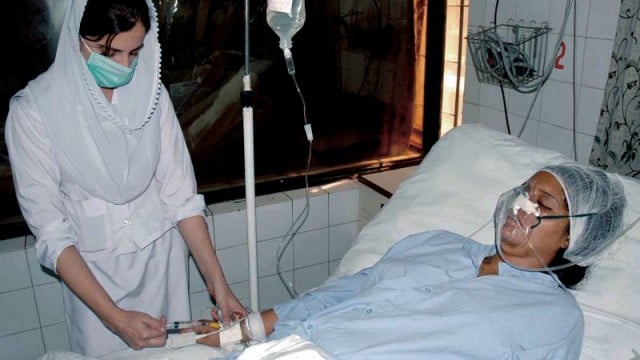 ---
SUKKUR: With no doctors and few nurses, most of who prefer to spend their time on their mobile phones rather than tending to patients, Civil Hospital, Sukkur, is struggling to cater to its population.

It is the largest public sector tertiary hospital and serves people from adjoining areas such as Rohri, Saleh Pat and Shikarpur. But the hospital has only 400 beds and 22 doctors. Thousands of patients visit daily but most of them return home without being treated.

Nurses, who are a few in number, are nowhere to be found. If they are found and called for assistance, they continue talking to each other or on their mobile phones, ignoring the patient's pleas.

"Every day, we go to the nurses' room to call them, but they are not there. Even if they are, they completely ignore us and do not come to help the patients," complained one man whose relative is admitted at the hospital. According to another Sukkur resident, one nurse is taking care of 10 wards.

Meanwhile, doctors of the hospital prefer to give more time to their private clinics. Chief resident medical officer Hazoor Baksh Tunio said 20 doctors were transferred to Civil hospital from Anwar Paracha Hospital, Sukkur, to end the crisis. "But after a few weeks of duty, they returned to the private hospital," he said.

"This has been an issue for a long time and there are only two doctors on duty at night," explained Tunio, adding that new doctors are not being hired.

Concerned relatives say that patients are not being taken care of properly and medicines are also not provided on time. Yasmeen, a Kandra resident, said, "I have been bringing my two-year-old son for the last two months to the hospital and either there is no doctor or if there is, he does not check him properly. No one has been able to diagnose the problem yet."

Medical superintendent Dr Zulfiqar Sheikh said, "We have written to the Sindh government and the health ministry about the shortage of doctors and paramedical staff." But that is all the explanation he could offer.

Published in the Express Tribune, June 1st, 2010.
COMMENTS
Comments are moderated and generally will be posted if they are on-topic and not abusive.
For more information, please see our Comments FAQ