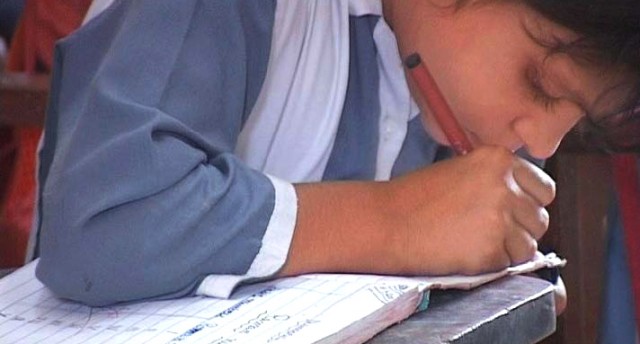 ---
SUKKUR:


A school called Workers Model School in the SITE area, Sukkur was established for the particular purpose of providing education to the children of labourers. However, it is these very children who now find it the hardest to get admission to the school.

Yasir Ali from Labour Colony is one of the aspiring five-year-olds who were unable to get admission there.  His parents lamented that the child has to amuse himself with his older brother's books because he cannot afford new ones.

Hundreds of thousands of people work as daily wage labourers in the province and support their families on meagre and unstable incomes. There are just five model schools to educate their children. Three of these schools are in Karachi while one is in Sukkur and one in Hyderabad.

Around 1,000 students are enrolled at the Sukkur school and the number of workers' children among them is negligible. People have alleged that the only reason their children cannot get into the school is their lack of 'sources' or influential references'.

"Some of the students are workers' children while others are not," said Muhammad Ramazan, a teacher at the school. "The rights of these labourers' children are definitely being trampled on."

The administrator of the Workers Model School, Hafiz Muhammad Sabir, said, "We admit the children of those people whose certificates have been verified by factory management."

The factory management claims that it has no powers or monitoring authority over who is enrolled at the school.

More than 600 children of Labour Colony were told that the school had no room left for them. However, people insisted that with its 23 classrooms the school can easily accommodate 200 more pupils.

The school is also said to be facing many other problems. Uniforms, text books and a supply of cold drinking water amid rising temperatures are some of the things, other than workers' children, that are missing from the school.

Time and again people have protested against inadequate facilities, while the less fortunate labourers who have yet to get their children admitted to the school have raised their voice against what they perceive as biased enrolment.

There should be fair and transparent process of admitting students into the school, they demanded.

Angry parents also warned the school administration that they would go to the police if the problem persists.

Meanwhile, teachers substantiated the parents' claims about lack of books.

"We are required to submit reports every week but when we don't have the books, what can we teach the children?" they complained.

Published in the Express Tribune, June 1st, 2010


COMMENTS (1)
Comments are moderated and generally will be posted if they are on-topic and not abusive.
For more information, please see our Comments FAQ