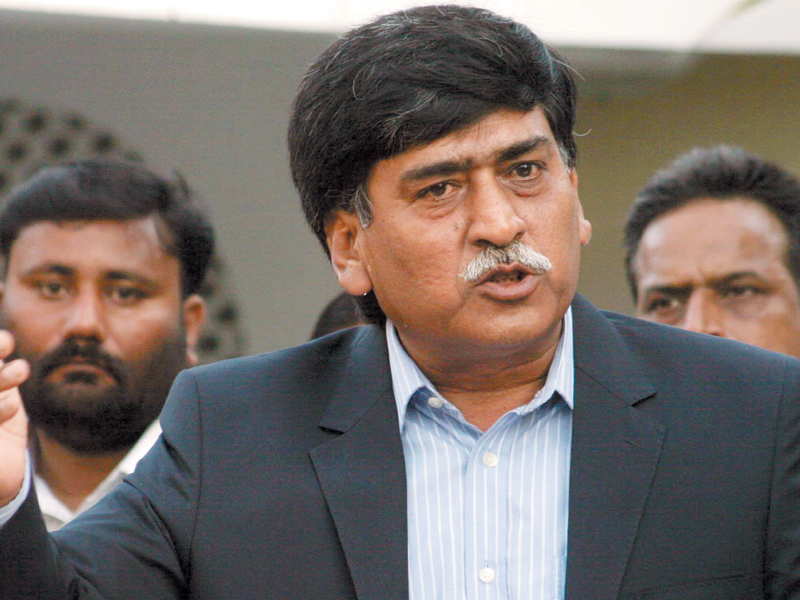 ---
KARACHI: Muhajir Qaumi Movement-Haqiqi (MQM-H) Chairperson Afaq Ahmed has resigned from his leadership post in response to the election results which he claims were rigged.

Speaking at a press conference at his house in Defence Hosuing Authority, he added that the kind of pre-poll engineering carried out in the recent polls has never been seen before.  Ahmed said, "We have failed to counter the conspiracies" and he advised the workers to choose a better leader.

He said the predictions he made in the previous news conference had proven true. Ahmed had stated that the elections were controlled. "I had also anticipated that some elements wanted to ensure that Karachi is not ruled by its residents. Nobody paid heed to my warnings and now we have lost control of the city. I had always maintained that we had no support from the agencies and this election has proved this. Imran Khan has promised revolutionary changes. If he goes by his promises, we will extend our support to him."

Party workers were infuriated with the resignation and strongly opposed the decision. Several even started crying in anguish while others kept shouting slogans in Ahmed's favour. Despite the persuasion however, Ahmed refused to retract his decision. He said that he accepted the responsibility for the election results and that he would not take back his resignation like Farooq Sattar. Ahmed said, "The party needs a new leadership that ensures a democratic culture is promoted".

MQM-P, PSP reject Karachi results

He said the leadership can be just as wrong as a worker in the party. "I would, however, serve the party till my last breath. The workers should constitute a managing committee and strengthen the party structure," he advised.

He expressed strong support for the Muhajir community and said he was disappointed to see the elections being controlled. He added, "Our workers complained that they were denied access to Form 45".

He said that the sanctity of the vote has been compromised and people are compelled to believe that their vote is not reflected in the results. He hoped this trend would change. He shared positive thoughts for the future adding that people were motivated and had come out to vote like they had in 1986.

He maintained that MQM-H would do whatever it can for the betterment of the city. He also expressed hope in Imran Khan, "Whatever Imran has said is appropriate. We will support him if he stands by his promises."
COMMENTS
Comments are moderated and generally will be posted if they are on-topic and not abusive.
For more information, please see our Comments FAQ