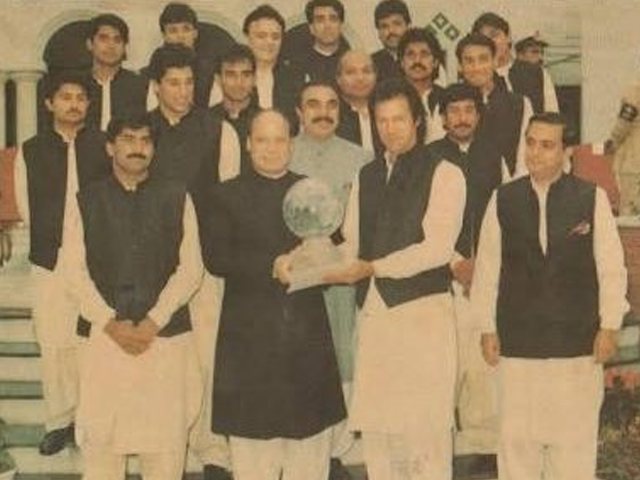 ---
KARACHI: A century has been reached and the scoreboards show 114, as one of Pakistan's most endeared cricketers Imran Khan warms up for his second innings - this time, in the government.

On election day [Wednesday], the cricketer-turned-politician was seen cruising around Islamabad listening to the victory anthem The World is Coming Down, as he relived Pakistan's historic 1992 World Cup victory against England and anticipated the poll results.

The next day, Khan made history. Stumps fell and crowds cheered, while some called for a review and rematch.

Cricket world toasts to Imran Khan-led PTI's victory in elections

Khan won a resounding victory and the elections are now over. However we the people, must brace ourselves for the metaphors, which are likely to bounce back time and again, possibly for the next five years as 'Kaptaan' and his team move from the pavilion to the pitch.

On Thursday, Khan made a vociferous speech which had many of us get up for a standing ovation. First one to appreciate his sportsmen spirit was his ex-wife Jemima Khan.

"I remember Imran Khan's first election in 1997 – untested, idealistic and politically naive," she wrote. "I waited up for the call in Lahore with a three-months old Sulaiman, who I had lugged around the country. Eventually, he called. 'It's a clean sweep' and after my gasp, "… the other way." Imran roared with laughter."

And among all puns, 'clean sweep' has perhaps clean sweeped the internet.


Cricket World Cup - ✔
SKCMH - ✔
Pride of Performance - ✔
Hilal-e-Imtiaz - ✔
Namal University - ✔
VC Bradford - ✔
Billion Tree Tsunami - ✔
Health, Edu, Police Reforms - ✔
Prime Minister - ✔
One man did it all! Imran Khan 😍😍#WelcomeKingKhan pic.twitter.com/fbM5kpjVtK

— uzair (@mareezeqalb) July 27, 2018
So finally congrats @ImranKhanPTI for getting this vast mandate from the people of pakistan hope you will work for prosperity and development of Pakistan Peace all well wishes with you .
#PTI #Cleansweep

— Abu Bakr Butt (Village Officer 😍) (@abubakr7411) July 26, 2018
Dear Fellow Countrymen/Women..... YOU ARE WELCOME!

Regards,

The People of KPK!#ElectionPakistan#PrimeMinisterImranKhan#PTI #imrankhanPTI #CleanSweep

— Abdul Hadi (@IaintHadi) July 26, 2018
Question: PTI ne KPK me kya kar liya?
Answer: #CleanSweep #ElectionPakistan2018 #PTI

— سعید 🇵🇰 (@saeed14i) July 26, 2018


Another old timer, Pakistan Cricket Board (PCB) also tweeted:


Congratulations to Imran Khan the new Prime Minister of our Country. It was all very formal but I still got to call him Skipper. #WelcomeKingKhan #NayaPakistan #ElectionPakistan #PakistanZindabad pic.twitter.com/TdSF0n2ywx

— Cricket Pakistan (@Cricket_PCB) July 27, 2018


It's true, for some politics is on the back foot and a key concern remains, the appointment of PCB's new chairman:


On a lighter note, PCB chairman with PM@wasimakramlive @Godmade__ @ZarrarKhuhro #NayaPakistan #WelcomeKingKhan @Mumtazz_Maneka pic.twitter.com/YWBYURmCuz

— A. Ali Shah Nowshervi (@nowshervi1) July 27, 2018


Imran's victory speech hailed as 'mature' and 'encouraging' by Twitterati

Khan's early victory is adjunct with his political success and keeping the winning spirit alive, cricket legends from all over the world also chimed in.

Indian cricketer Kapil Dev congratulated Khan, saying that he is very happy for him and hopes he can emulate his cricketing success while running the state.


.@therealkapildev says that he is very happy for @ImranKhanPTI and also hopes that he can emulate his cricketing success while running the state https://t.co/96u9piZByx

— The Daily Star (@dailystarnews) July 27, 2018


Some marveled at the foreshadowing:


who wouldve thought... he'd take the cup & the shirwani eventually. pic.twitter.com/OGFUfM7Fl9

— Meher Bokhari (@meherbokhari) July 26, 2018


While some took the Metaphor too far...about ten years far from now.


Champions Trophy 2017 ke 25 saal baad, the cutest Prime Minister ever.. #PrimeMinisterSalfalazAhmed pic.twitter.com/zrS7pusOPY

— Muhammad Umair Tariq (@cricRebel) July 25, 2018
Have something to add to the story? Share it in the comments below.