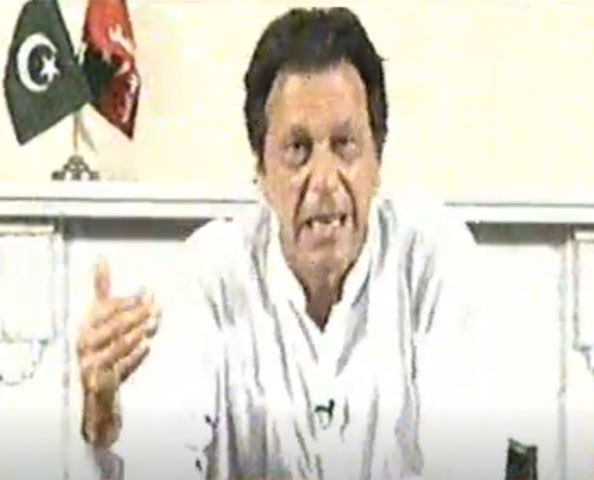 ---
ISLAMABAD: [fbvideo link="https://www.facebook.com/etribune/videos/2443345575682454/"][/fbvideo]

Accountability, austerity, good governance, tax reforms, pro-poor policies, friendly relations with neighbouring countries and his party's core electoral promise of 'change' would form cornerstones of his government-in-waiting, announced PTI chairman Imran Khan in his victory speech on Thursday.

Khan, who appeared calm and composed during the 28-minute speech broadcast live from his residence in Bani Gala, also offered his support to opposition parties if they sought a vote audit in any constituency.

The tone of his victory speech, watched by millions on TV and social media websites, was entirely different. It was dissimilar from his signature speeches of the recent past.

He did not mention his political rivals in his entire speech. He also refrained from blaming anyone for the current situation in the country. Instead, he stuck to his claim of the unfolding of a 'profound change'.

Nation reacts to election results – some celebrate, others disappointed

"I thank God for providing me with an opportunity to implement a manifesto I had though out nearly 22 years ago," Khan asserted.

Special arrangements to broadcast this speech live were made but media teams were not invited to cover the event. Instead, private television channels were informed about the satellite frequency to connect.

PTI leaders including Jehangir Khan Tareen, Shah Mehmood Qureshi, Shireen Mazari, Asad Umar, Faisal Javed, Fawad Chaudhry, and Iftikhar Durrani were among those who held a brief brainstorming session with Khan to finalise the speech.

Initially, he elaborated upon the reasons why he joined politics, his struggle for the cause of Naya Pakistan and outlined the way forward.

"Over the past few years, I witnessed Pakistan's fall from grace, becoming marred by corruption and bad governance," he said.

According to him, he had always wanted to make Pakistan a country as had been imagined by its founding father, Muhammad Ali Jinnah.

"This was a historic election. People rendered sacrifices during this election. Elderly people, persons with disabilities, women and overseas Pakistanis everyone came out to vote for Pakistan. All of them have strengthened democracy and the democratic process in the country," he said.

Khan observed that this election was the "most free and fair in the country's history".

His speech was punctuated by references to the principles laid down by Holy Prophet Muhammad (PBUH) while founding the first Muslim state in Madina.

"I want to see a Pakistan where the state takes full responsibility of the poor, weak, orphans, widows, physically challenged … It is entirely opposite to current system where the rule of 'might is right' prevails," he said.

The coming PTI government's policies would primarily focus on human development. "A country is known the way it treats its poor and not the rich. No country can progress with too many poor," he said, adding that whole Pakistan should forge unity in this regard.

Over the past three years, he said, he faced worst-ever personal attacks but he had forgotten everything for Pakistan's sake.

"PTI's government will be the first-ever government that will not victimise its political rivals. We will…just ensure the supremacy of justice," he pledged.

Jemima Goldsmith congratulates Imran Khan on historic election results

Stressing the need for strengthening state institutions, he said that they would not need instructions from high ups to stop corruption and to nab a criminal rather they would do it systematically without any interference.

"I will be the first one to offer myself for accountability; then my ministers, and lastly ordinary citizens," he said.

Highlighting the need for rectifying the governance system, he said that Pakistan had been facing large challenges on the economic front.

"We have never faced such huge fiscal deficit, trade deficit, debts, depreciation of rupee value and this is all because the national economy is mired by dysfunctional institutions. We will create business-friendly atmosphere by rectifying flawed economic policies," he said.

Overseas Pakistanis, he said, would be invited to invest in Pakistan but before this could happen, it was necessary to root out corruption.

"I want to pledge to my countrymen that we will institute a governance system that will make people's lives easier, encouraging people to invest in Pakistan. From this day onward, you will find a different kind of governance," he said.

Austerity measures

Pledging to protect the public money, he said: "PTI government will introduce austerity at all levels."

"I will feel ashamed even if I think of living in a luxurious mansion called the PM House in a country where half of the population lives in abject poverty," he said.

He announced that state facilities such as the PM House and Governor Houses would be converted into public facilities.

"We will choose a place somewhere in Minister's Enclave for the residence of the PM," he announced. He said all state guest houses at hill stations will be opened for the public to generate funds.

"I promise that the PTI government will change the culture of using public money to maintain lavish lifestyles by the ruling elite. No one but us, the people, will steer Pakistan out of financial crisis," he said.

He said citizens would start paying taxes once they learn that their money would be spent on their welfare.

NAB, he said, would be strengthened and FBR restructured.

"I will simplify my own lifestyle. I will remain just as I am even after assuming power," he said.

Foreign Policy

Pakistan needed peace and stability more than any other state on the globe, he observed, adding prevailing economic crisis demanded that we should mend fences with all neighbouring countries "so that we can focus on nation-building".

Referring to India, he suggested that leaders of both countries should sit together, hold talks to resolve all outstanding issues, including Indian occupied Kashmir and boost trade ties.

According to him, better relations between India and Pakistan would benefit the whole region.

"I regret the manner Indian media portrayed me over the past few days as if I am a villain in some Bollywood movie. They portrayed that if Imran Khan won, it would be disastrous for India," he said.

He said that he was a Pakistani "who is known by most in India and has relations with people there".

"I toured across India while playing cricket. I firmly believe that good relations between India and Pakistan are beneficial for the entire subcontinent. If we want to reduce poverty in the subcontinent, which should be number one priority of any government in the region, we need to have good trade ties with each other," he said.

"It's unfortunate that the core issue between India and Pakistan is the Kashmir dispute. The people in Kashmir have been facing worsening human rights violations over the past three decades," he said.

"Whenever the army goes in cities, rights violations occur and the people of Kashmir have suffered because of this situation."

"Leaders of India and Pakistan need to start talks in a bid to try to resolve this problem. If the blame game between both countries continues we will not move forward an inch. We are ready to improve our relations. If India takes one step forward, we will take two steps," Khan said.

Right now, he said, Pakistan was blamed for terrorism everywhere in the world.

Promising to bolster ties with China, he said that China had provided us with an opportunity to capitalise on CPEC projects.

"PTI government will learn from China how to extricate the country from the clutches of poverty and eradicate corruption … China has vast experience in doing so," he said.

"People of Afghanistan now need a peaceful environment and Pakistan wants to see a peaceful Afghanistan because peace over there will bring stability in Pakistan," he observed.

"We will make all-out efforts to return peace in Afghanistan. I personally want to open borders with Afghanistan," he said.

I'm fighting against mafia, not politicians: Imran

He said his government would work for improved relations with the US based on mutual benefit.

"Unfortunately, so far our relations with the US have remained one-sided where the US thinks that it gives aid to Pakistan to fight its war in the region and that approach has caused a huge loss to Pakistan. We want a balanced relationship with the US, benefitting both countries," he announced.

Ties with Iran, he said, would also be improved.

Appreciating the role played by Saudi Arabia, he said that it had always helped Pakistan.

He pledged that during his tenure, Pakistan would strive to play the role of a mediator in the Middle East crisis.

Rigging claims

At the end of his speech, he tackled the allegations of rigging in polls.

"If anyone thinks there is rigging in some constituency … just name it and the PTI government will help you investigate," he said.

The recently-concluded general election was the country's most free and fair elections.

"We are ready to address reservations of all opposition parties," he said.

He said that the current ECP had been formed jointly by the PPP and PML-N while caretaker governments were installed through mutual dialogue.

According to him, after the 2013 general election, ECP had received 400 petitions about rigging. He said that PTI was the only party that called for opening up just four constituencies and "it took us three years to get this done through courts".
COMMENTS (7)
Comments are moderated and generally will be posted if they are on-topic and not abusive.
For more information, please see our Comments FAQ