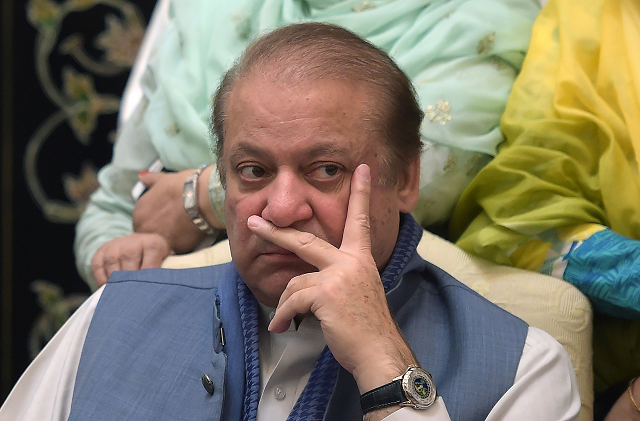 ---
ISLAMABAD: The legal team representing the Sharif family is being continuously denied access to former prime minister Nawaz Sharif, his daughter Maryam Nawaz and his son-in-law Capt (retd) Safdar in jail, The Express Tribune learnt on Thursday.

Authorities in Adiala Central Jail "unilaterally cancelled" on Wednesday a meeting between members of the Sharif family and their legal counsel that was scheduled to happen on Thursday.

A member of the legal team said that the team had contacted the Adiala jail authorities on July 17 and requested that they are allowed to consult their clients on July 18 (Wednesday) to determine a legal strategy.

Sharifs meet lawyers in jail

He said that the legal team spent the entire Tuesday waiting for a definitive answer which was not forthcoming.

"The jail authorities asked us to call at 8am on July 18 (Wednesday) to confirm the time of the meeting."

According to him, when the jail authorities were contacted on Thursday, they were told that the Superintendent of the Adiala Jail was not available and that he would call back as soon as he returned to his seat.

"Eventually, we were contacted by the Deputy Superintendent Jail at around 10:30am and were informed that a meeting on July 18 was not possible. But a meeting has been arranged for July 19 (Thursday) at 11am. We were assured that this time slot was reserved for the meeting with the legal team."

In retreat, cabinet allows Sharifs' open trial

He said that on Thursday, when the legal was just minutes away from the Adiala Jail, the Superintendent Jail had called them, informing them that the meeting had been unilaterally cancelled without any plausible reason.

"Furthermore, we were informed that a meeting in the next couple of days may be possible.

"We have been trying to get in touch with either the deputy superintendent or the Jail superintendent for permission to meet our clients today (Friday) since 1pm yesterday (Thursday). However, every time we have been informed that the Superintendent and his deputy were unavailable and they will call back as soon as they were available. No one has yet called us back and we received no confirmation from the jail authorities  regarding our meeting with our clients."


Just met Nawaz Sharif n Maryam in Jail. They were in high spirits n ready to face any hardship. Felt proud of their sacrifice.

— Mohammad Zubair (@RealM_Zubair) July 19, 2018


Deploring this state of affairs, he said that the jail authorities were denying Nawaz Sharif, Maryam Nawaz and Capt (retd) Muhammad Safdar the right to meet their legal counsels and confer regarding pending cases.

PBC team meets Nawaz Sharif

Later on Thursday, a delegation the Pakistan Bar Council (PBC) visited the jail as observers and met Nawaz Sharif for at least 30 minutes.

Interestingly, they were accompanied by at least a dozen PML-N leaders and supporters.

In another development, Nawaz and Maryam met each other for the first time after their detention on Thursday.

It is learnt on good authority that Nawaz was profusely sweating because of the sweltering heat.

PBC's Vice-Chairman Kamran Murtaza told the Express Tribune that the PBC delegates were dissatisfied with the facilities provided by jail authorities to the former prime minister, his daughter and son-in-law.

He also wondered why they were both in solitary confinement.

According to him, Nawaz had slept on the floor on his first night in jail.

Later, he was given a charpoy.

Nawaz, lawyers confirmed, had complained that he was not given fresh food and he was provided with food sent from home.

Now, however, the jail authorities had allocated a cook to prepare food for Nawaz, in addition to providing him with a newspaper.

Missed deadline: No vote for incarcerated Nawaz, Maryam

The PBC vice-chairman stated that the council was planning to assign a panel to observe the trial proceedings.

During the meeting, Kamran Murtaza was accompanied by Yasin Azad and Khalid Javed.

Azam Nazeer Tarar could not visit with them in jail because he was busy in the apex court.

Meanwhile, PBC's former vice-chairman Ahsan Bhoon, who is associated with the same Asma Group, made it clear that the PBC had nothing to do with Nawaz Sharif.

Lawyers, he said, who visited Nawaz Sharif in jail had done so in their personal capacity.

"The PBC cannot become a party for any political person. The bar believes in the rule of law and supremacy of Constitution. Passing a judgment is the right of a judge and now Nawaz can seek a remedy in the superior courts," he said.

Bhoon insisted that lawyers had "full faith in the chief justice of Pakistan, who is only exercising his constitutional powers to fulfil his obligations".

If any political party had any objection over the exercise of suo motu powers, it should amend the law, he said.

Bhoon Ahsan also announced donating Rs50,000 for the fund for building dams.

Similarly, another PBC member Shoaib Shaheen, who belongs to the rival group of lawyers, also condemned the lawyers' meeting with Nawaz Sharif in the jail.