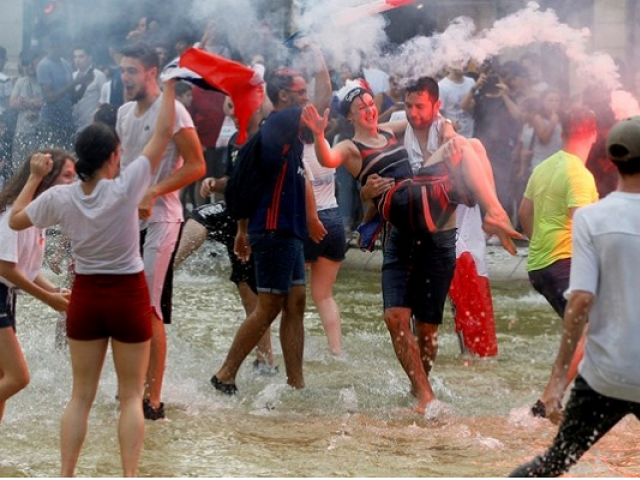 ---
France defeated Croatia 4-2 in the World Cup final at Moscow's Luzhniki stadium on Sunday to lift the trophy for the second time in 20 years.

Twitter was flooded with reactions following France's victory.

Pakistani writer Fatima Bhutto's tweet subliminally speak of the plight of migrants in France.


I hope France never says an unkind word about immigrants ever again

— fatima bhutto (@fbhutto) July 15, 2018


https://twitter.com/GarethSarfgate/status/1018548633208311813

Some lauded that Russia's Putin was probably made of sugar to pass the trophy on to France.


Putin is made of sugar pass it on #WorldCupFinal pic.twitter.com/rN0uclw2vt

— Luke Smith (@LukeSmithF1) July 15, 2018


https://twitter.com/GarethSarfgate/status/1018521821996572672

https://twitter.com/pakictan/status/1018755783209648130


congratulations #france 🇫🇷 and big respect for #croatia 🇭🇷!! what an exciting #WorldCup with lots of surprises! pic.twitter.com/nbrcP3hrk1

— Bernhard Schlagheck (@GermanyinPAK) July 16, 2018


https://twitter.com/tea_nBread/status/1018762341041823744


Diversity Immigration and the World Cup 🇫🇷 white supremacists lost badly today #WorldCup2018

— Ayesha Tammy Haq (@tammyhaq) July 15, 2018
Wow, France is more like Pakistan than I thought https://t.co/ipbCoACEcs

— Bina Shah (@BinaShah) July 16, 2018
78% of the French football team are immigrants, and 50% are Muslim.

Muslim immigrants rebuilt France after the Second World War, and they've helped make France the #1 team in the world.

Diversity is strength. Racism is weakness.

— CJ Werleman (@cjwerleman) July 15, 2018


Zarrar Khuhro revealed that every team he supported lost.


Everyone i support loses. So things not looking good for aap janab sarkar party

— Zarrar Khuhro (@ZarrarKhuhro) July 15, 2018
COMMENTS
Comments are moderated and generally will be posted if they are on-topic and not abusive.
For more information, please see our Comments FAQ