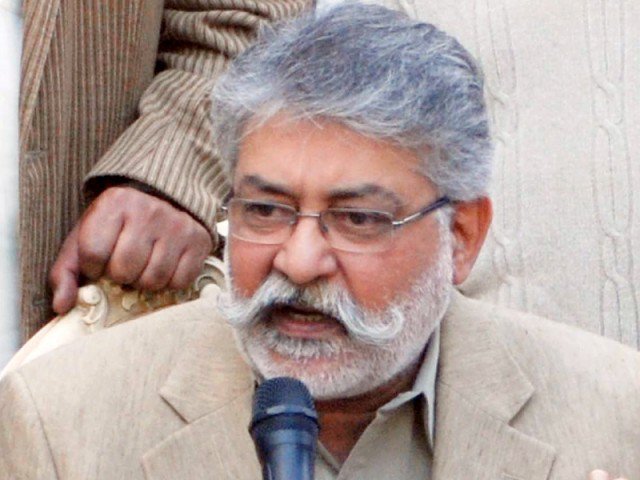 ---
HYDERABAD: The Grand Democratic Alliance (GDA) on Sunday staged its first power show as part of the election campaign in Nawabshah and vowed to bring an end to the 10-year rule of Pakistan Peoples Party (PPP) in Sindh.

Addressing supporters of GDA, the allied parties and his disciples from Hurr Jamat, Pakistan Muslim League-Functional (PML-F) Chief Pir Pagara Sibghatullah Shah Rashdi said, "The family of Hakim Ali Zardari has completely taken over the PPP from the family of Zulfikar Ali Bhutto."

He asked the people to vote for the GDA to oust the deceptive Zardari league. "Together we will hammer the last nail in the Zardari league's coffin," he added.

He asked the people to hold the party, which ruled the province for 10 years accountable for rampant corruption, bad governance and the plight of Sindh's people as a whole.

He also recalled the financial crisis which the province's farmers, especially the sugarcane and wheat growers suffered because of alleged financial interests of Zardari.

"The GDA will raze the fortresses of corruption in Sindh in this election," he said, adding "Zardari's treacherous politics will end now."

The GDA head announced his support for construction of Bhasha Dam and appreciated the Chief Justice Saqib Nisar's efforts.

However, he reiterated opposition to the construction of the controversial Kalabagh dam. He requested the people to contribute to the dam construction fund which has been created by the CJP.

"Zardari says that he knows who was behind Benazir's assassination but he has never disclosed the names in last 10 years," he said adding "every single person connected with her murder has been killed."

GDA's General Secretary Ayaz Latif Palijo said, "Zardari has looted Sindh's farmers, labours, traders, youth and the poor people." He asked the National Accountability Bureau (NAB) and Federal Investigation Agency (FIA) to explain under which compulsion they are not taking action against corrupt politicians in Sindh.

Former federal minister and National Peoples Party's leader Ghulam Murtaza Jatoi, who is contesting from NA-212 as the alliance's candidate, blamed Zardari for destroying education, health, agriculture, irrigation and other sectors. "It's time to hold him accountable.

If you don't take this opportunity, he will further plunge Sindh in destruction and shackles of corruption," added Jatoi.

The former deputy speaker of the National Assembly Syed Zafar Ali Shah, Sindh United Party's Syed Zain Shah, PPP-Workers Safdar Abbassi and Naheed Khan besides other GDA leaders also spoke.

The speakers expressed condolence over the killing of innocent people in the terrorist attack in Mastung and expressed solidarity with their families.

Published in The Express Tribune, July 16th, 2018.