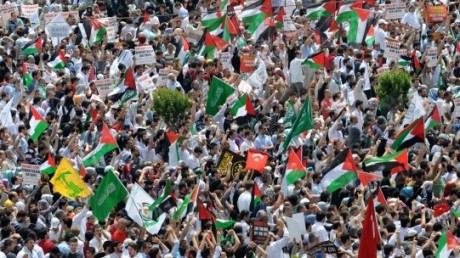 ---
International condemnations started pouring in over Israel's actions on Monday.

The United States said it 'deeply regrets' the loss of life in the incident, while UN Secretary General Ban Ki-moon said he was 'shocked' by the deadly Israeli raid.

British Foreign Secretary William Hague said there was a "clear need for Israel to act with restraint".

The Israeli Ambassador to Turkey was summoned to explain his country's storming of a Turkish aid ship sailing to Gaza.

Meanwhile in Istanbul, police protected the Israeli consulate from stone throwing protesters who tried to take over the building. A more peaceful protest later involved readings from the Qur'an and holding Palestinian flags. In Ankara, the Turkish capital, the Israeli Ambassador's Residence has also attracted a protest gathering.

Iranian President Mahmoud Ahmadinejad said the 'inhuman' act would lead to the country's demise, while Turkey's foreign ministry added the act may lead to "irreparable consequences" in bilateral ties.

Greece has also withdrawn from joint military exercises with Israel and the European Union has also called for an inquiry into the deaths.

Arab League chief Amr Mussa also slammed the deadly Israeli military raid as a "crime" and called a meeting of the 22-country organisation about the attack on Tuesday.

Meanwhile, Palestinian president Mahmud Abbas slammed the deadly Israeli raid, calling it an outright 'massacre', and announced a three day mourning period to condemn the massacre.

Local protests

Several protests have been held across the country to condemn the use of force by Israel against the humanitarian mission delivering aid to Gaza.

Journalists took out a protest in Lahore, chanting slogans against Israel and demanding the immediate release of all those taken into custody.

Journalists in Gujranwala took out a rally from Press Club to G.T road and urged the international community to end diplomatic and economic ties with Israel, they also demanded that the government file a case against Israel in the International Court of Justice.

Demonstrations were also held in Hyderabad and Sukkur, while traders in Peshawar took out a protest rally against Israeli aggression.

Meanwhile, Mushahid Hussein has tweeted the following:

@Mushahid Good news:Flotilla's Pakistan team - Talat Hussain/his boys, Khubaib Foundation chief Nadeem Ahmed Khan & his Turkish wife -all safe & sound

Interior Minister Rehman Malik has said that no Pakistani citizen died or was injured during Israel's raid on Freedom Flotilla ship.

Malik said that he recieved information from Interpol regarding three Pakistani citizens, and according to Interpol's information all of them are safe.