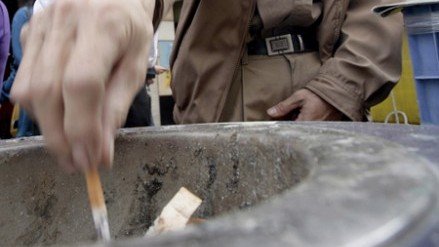 ---
KARACHI: Prof Nadeem Rizvi Head of Chest Diseases Jinnah Postgraduate Medical  (JPMC ) and President Pakistan Chest Society has said that according to a recent research, smoking in girls schools of Karachi has risen to 16%.

He said this while addressing a press conference at Karachi Press Club here on Monday in connection with the World No Tobacco Day being observed today. The World Health Organization (WHO) theme for this year''s WNTD is "Gender and Tobacco with an emphasis on marketing to women".

Prof Rizvi drew particular attention to the harmful effects of tobacco marketing that is targeted towards women and girls. Women are a major target of opportunity for the tobacco industry, which needs to recruit new users to replace the nearly half of current users who will die prematurely from tobacco-related diseases.

He demanded that all forms of direct or indirect marketing of tobacco products must be banned. How can we allow promotion of a product which is responsible for 100,000 deaths annually in the country, questioned Prof Rizvi.

Prof Javaid Khan official of National Alliance for Tobacco Control and Head Section of Chest Diseases at AKUH said that all doctors are morally bound to educating the public on health related issues.

''Research shows that even a brief three-minute advice by doctors on quitting smoking brings about significant results. It was unfortunate.''

He said that tobacco use in the form of gutka and pan masala is on the rise, especially among children, resulting in increasing incidents of head, neck and mouth cancers. ''Pakistan currently tops the global list in oral cancer,'' he said.

He said that over 50% mortality from lung disease is preventable if smoking is avoided. Health warnings that include pictures have been proven to motivate cigarette smokers to quit and to positively impact those still not addicted," said Khan.

He regretted that in spite of repeated appeals by the medical community, the government has delayed the introduction of pictorial health warning on cigarette packs in the country, apparently as a result of pressure from the powerful tobacco industry.

He made a very strong call for immediate introduction of such pictorial warnings, asserting that there would be a very positive impact, especially on the young.

Among regional countries, Iran and India have already instituted mandatory pictorial warnings on cigarette and tobacco packs.

Khan said that lung cancer is the number one cause of cancer deaths in Pakistani men and over 90% of such cases are the direct result of tobacco use. He called for the immediate implementation of government's Notification of May 2009, which prohibits smoking at all enclosed public areas including hotels and restaurants.

Citing another research study by AKU on Shisha use, Khan said that over 50% of university students in Karachi were found to consume tobacco in this form. An hour of Shisha use was equivalent to smoking 100 cigarettes, he warned.

Prof Sohail Akhtar, President Pakistan Islamic Medical Association and Chest Consultant from Ziauddin Medical University clarified the strict prohibition of tobacco use in Islam and said that in the era of the Prophet (PBUH) there was no tobacco or its usage in that part of the world.

Dr Shahina General Secretary of Pakistan Chest Society and Consultant of Ojha Institute of Chest Diseases said that around 1500 young people take up smoking everyday, helped by aggressive marketing by tobacco companies. Dr Shahina said that city governments need to initiate an education campaign on tobacco and its hazards in schools and colleges.

Among other things, he called for a ban on sponsorship of sports and other entertainment events by the tobacco industry and implementing legislation which clearly prohibits the sale of tobacco products within 50 meters of educational institutions.

It is the responsibility of all vice chancellors of the universities to ensure that these educational institutions are completely smoke free. He demanded a total ban on sale of tobacco products inside the universities premises.
COMMENTS (6)
Comments are moderated and generally will be posted if they are on-topic and not abusive.
For more information, please see our Comments FAQ