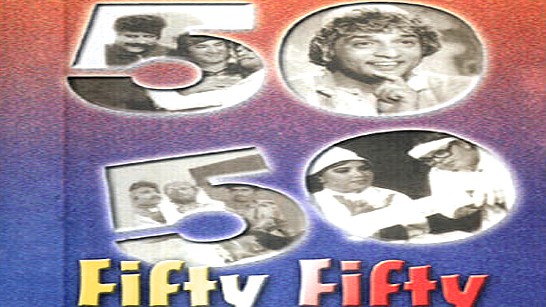 ---
KARACHI: Decades after the show ended its run on state-run television, Fifty Fifty remains one of the most groundbreaking television productions to have aired in Pakistan.

A satire show with exemplary sketches – and starring young actors who are still leading television stars – Shoaib Mansoor's Fifty Fifty took on everything from cultural phenomena like the 'Dubai chalo' wave, the impact of Michael Jackson's music or the fixation with speaking English.

Here's my personal list of the best sketches presented on the show. Feel free to add your own in the comments section

1. Bashira in Trouble

Paindu Productions' English film Bashira in Trouble is easily one of the best sketches on Fifty Fifty. Featuring a meld of every single cliche from Lollywood productions – all in English! Classic dialogue: 'Touch me not Bashiryaaa!'

2. Kasauti parody

A spoof of the game show Kasauti, the show parodied the original hosts, Qureshpur, Obaidullah Baig and Ghazi Salahuddin, down to the letter and features the classic couplet: "Na bhindi hai, na teenda hai, na bhindi hai, na teenda hai, jaan bohat sharminda hain".

3. Disco chor

Ismail Tara stars as a burglar who attempts to rob a house to the tune of Michael Jackson's "Billie Jean".

4. Telephonic Nikah

Shoaib Malik really should have seen this video before he married Ayesha Siddiqui on the phone!

5. Dubai Ka Visa

Fifty Fifty capitalises on Pakistanis' obsession with getting a visa for Dubai.