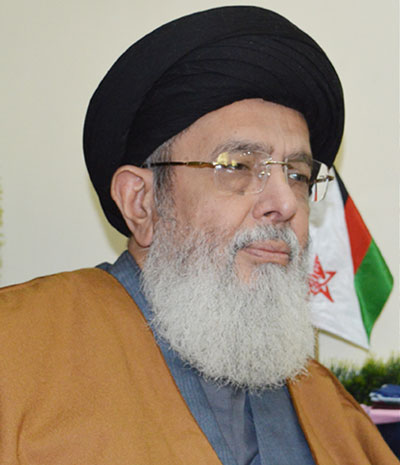 ---
The Patron-in-Chief of Supreme Shia Ulema Board and chief of Tehreek Nafaz Fiqh-e-Jafariya (TNFJ) Agha Syed Hamid Ali Shah Moosavi has announced the election policy for the general elections at a crowded press conference on Wednesday.

"We consider taking part in practical electoral politics on the basis of sect, maslak and provincialism fatal for the nation and the country," Moosavi said answering different questions of the media at TNFJs headquarter Maktab-e-Tashih, he said:

He said the Peshawar incident has taken place owing to inaction on the National Action Plan.

He said that the name of Allah Almighty, Holy Prophet (SAAW), Ahle Bait (AS), Sahaba (RA) and the Holy Quran should not be used in political interest. He advised the political parties to participate in elections on the basis of service to the nation and their manifesto.

Published in The Express Tribune, July 12th, 2018.
COMMENTS
Comments are moderated and generally will be posted if they are on-topic and not abusive.
For more information, please see our Comments FAQ