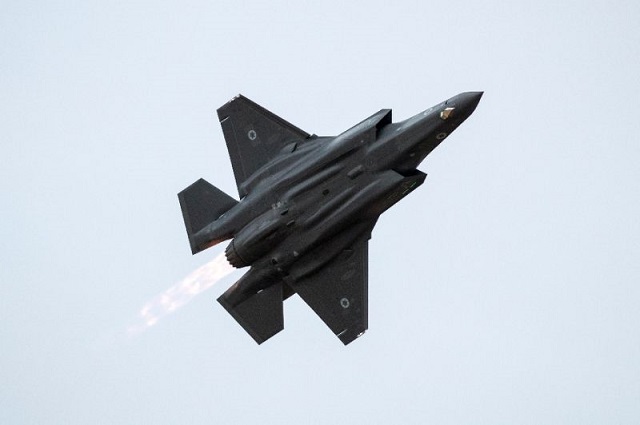 ---
DAMASCUS: Syria on Sunday accused Israel of targeting an air base in the central Homs province, saying its defences hit a jet involved in the attack.

"Our air defences are responding to an Israeli aggression and intercepting a number of missiles targeting the airport, hitting one of the attacking planes and forcing the rest to leave the airspace," the official SANA news agency quoted a military source as saying.

Rami Abdel Rahman, head of the Britain-based Syrian Observatory for Human Rights, said that a missile bombardment killed an unspecified number of "Iranian and pro-regime fighters" at the T-4 base and was "likely to be Israeli".

In addition to the Syrian army, Iranian fighters and Lebanese Hezbollah troops are also stationed at the air base, according to the Observatory.

'Do not test Israel's resolve', Netanyahu warns Iran

The facility has previously been targeted by repeated strikes Damascus blamed on Israel.

An Israeli military spokesperson declined to comment on the latest incident, saying: "We do not comment on reports in the foreign media".

Syrian state outlets published a video of a flash in the dark sky, claiming it showed the air defences responding to the bombardment.

Since the start of Syria's civil war in 2011, Israel has repeatedly targeted positions of the Syrian army and Lebanon's Shia movement Hezbollah backing it inside the country.

Israel usually does not claim the strikes, but has long said it will not allow Iran to establish a military presence in Syria.

Netanyahu says has new 'proof' of Iran nuclear weapons programme

On April 9, missiles targeted the T-4 air base in the central province of Homs, killing up to 14 fighters, including seven Iranians.

Moscow, Tehran and Damascus accused Israel of carrying out those raids.

The air base was also hit on February 10, after Israel accused Iranian forces at the T-4 base of sending a drone into Israeli territory.

After bombing Iranian units in Syria in retaliation, an Israeli F-16 was shot down by Syrian anti-aircraft fire.

Israel then carried out what it called "large-scale" raids on Syrian air defence systems and Iranian targets, which reportedly included T-4.

Israel seized a large swathe of the Golan Heights from Syria in the 1967 Six-Day War and later annexed it in 1981, in a move never recognised by the international community.

The two countries are technically still at war.

In May there was an unprecedented escalation between Israel and Iran in Syria, with the Israeli army claiming it hit dozens of Iranian military targets across the border in response to what it said were rockets fired by Iranians at the occupied Golan Heights.

Israel will not allow Iran 'entrenchment' in Syria: PM

Israeli President Benjamin Netanyahu said last month that Israel would "not tolerate the Iranian military entrenchment in Syria".

"The consequences are not merely to the Iranian forces there but to the Assad regime as well," he said.

Sunday's strikes coincided with regime progress, backed by Russian support, in the nearby southern province of Daraa.

After a blistering military operation and a ceasefire deal with rebels, government forces are reestablishing control over the entire southern province on the border with Israel.
COMMENTS (1)
Comments are moderated and generally will be posted if they are on-topic and not abusive.
For more information, please see our Comments FAQ