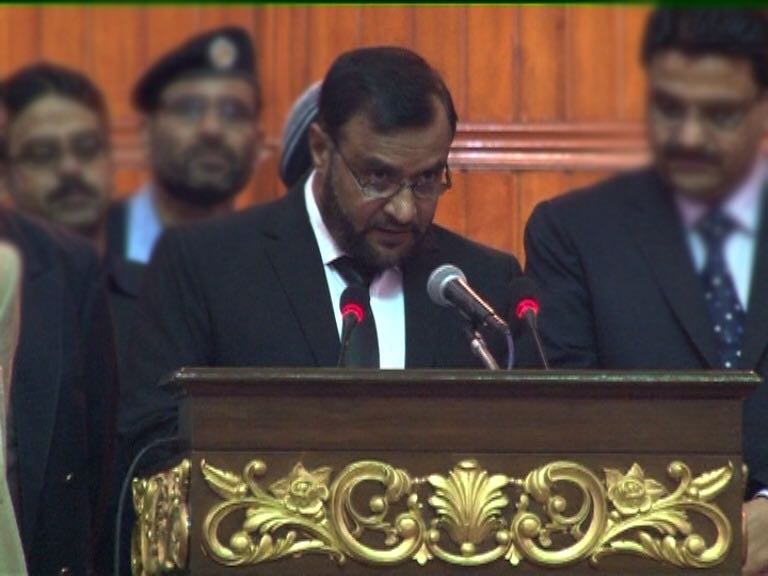 ---
Deposed prime minister Nawaz Sharif's counsel on Monday demanded that the presiding judge of the accountability trial be excluded from hearing the two remaining references filed against members of the Sharif family.

The accountability court in Islamabad resumed the hearing of Al-Azizia reference. Khawaja Haris presented Begum Kulsoom Nawaz's medical report and filed for a five-day exemption from the hearing, however, the court granted a three-day exemption. The next hearing is scheduled for July 12.

Avenfield judgment full of typos, grammatical errors

"You have already given a verdict on the Avenfield reference," Haris stated before Judge Bashir. "I request that you exclude yourself from the bench hearing Al-Azizia and Flagship references. You should write a letter to the Supreme Court in this regard. We wanted to have a single verdict for all three cases."

Bashir agreed to consult the Islamabad High Court (IHC) and the apex court and said the stipulated time for the announcement of the three references was nearing the end. The prosecution stated that they had no reservations against the removal of the judge, provided the court continued hearings for the remaining two references.

The apex court had previously set July 9 as the final date for announcing verdicts for Flagship and Al-Azizia references.

Arrest warrants issued for Avenfield convicts

However, the court could only wrap up the Avenfield reference within the stipulated time. Consequently, the accountability court will demand more time for finalising the Flagship and Al-Azizia references. The court awarded ten years imprisonment to Nawaz, seven for Maryam and one for Capt (retd) Safdar along with hefty fines.
COMMENTS
Comments are moderated and generally will be posted if they are on-topic and not abusive.
For more information, please see our Comments FAQ